Back To Blog
How to Style Ankle Boots at Work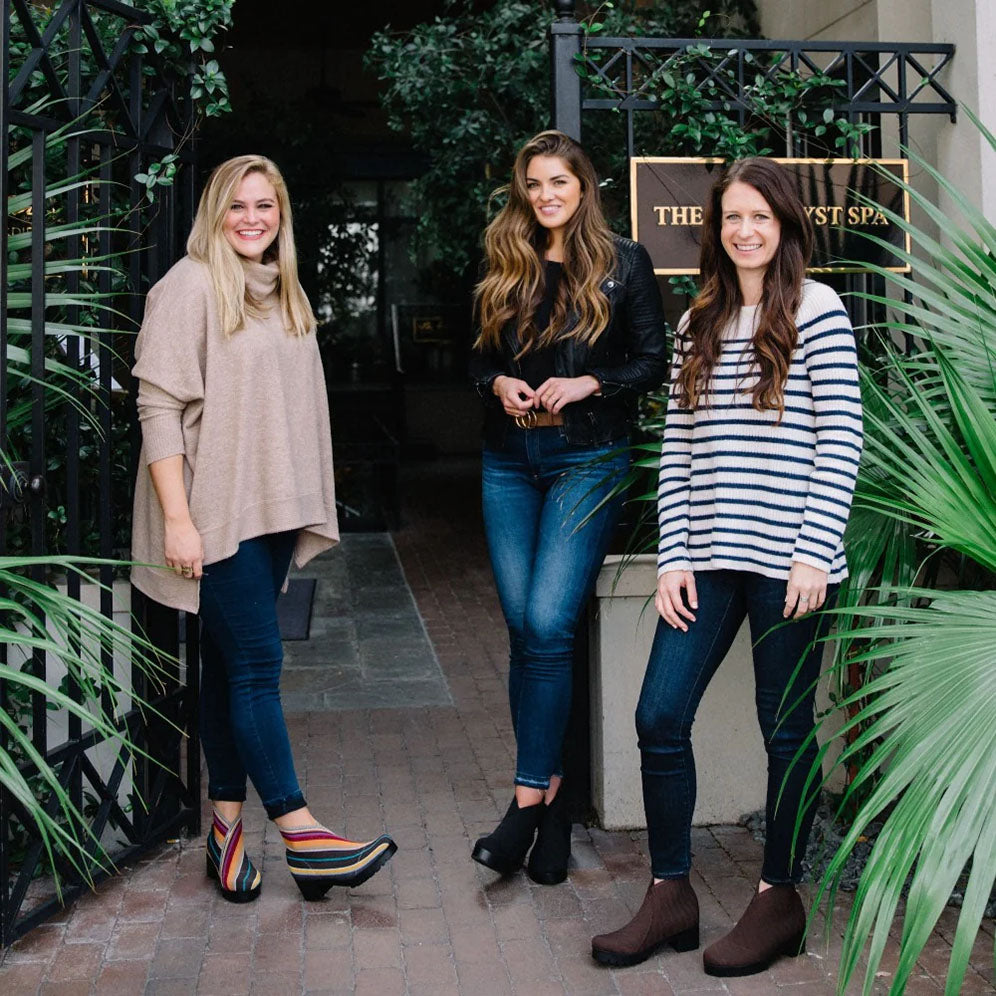 While booties are often considered the must-have cold-weather shoe, ankle boots are one of those wardrobe essentials that you can wear to work all year long. This versatile shoe is perfect, whether you're looking for a little pep in your step on a brisk spring morning on your way to work or sipping a pumpkin spice latte on your afternoon break in the fall. 
For a more casual work dress code, play around with different heel heights, patterns and textures. Even if your professional style is more conservative, you can still wear neutral-toned ankle boots in so many different ways. Keep reading for our list of some of our favorite comfortable heels for women at Charleston Shoe and great styling tips for the office.
1. Upper Monterey — There's a reason why this boot is one of our most popular lug soles. When it gets chilly during your commute, or if the AC is on full blast at your office, wear the Upper Monterey in animal print with a neutral-toned cardigan and dark wash jeans. The Upper Monterey in black or brown herringbone looks fabulous with a bomber jacket or striped sweater. If you love our Upper Monterey, be sure to check out all of our cute boots.
Buy Cute Boots at Charleston Shoe
2. Murphy — According to Who What Wear, a lug sole boot is a forward-style ankle boot that can bring a cool and chic element to any outfit. That's where the Murphy boot comes in. Available in black and tan herringbone, these neutral-toned colors will match anything you wear to the office. Wear black Murphy boots with a black midi dress, tan overcoat and black purse to finish off the look.
3. Jackson — Get ready for an ankle bootie you'll be wearing everywhere. The Jackson slip-on bootie in camel is a wardrobe essential. Pair it with a maroon blazer, red top and tan pants. Make your look pop by wearing an animal print top with black skinny jeans. Complete your outfit with gold hoop earrings or bangle bracelets.

4. Aiken — You'll be slipping into these slip-on Aiken booties in no time! They're made of suede with hand-stitched heel embellishments. Wear the Aiken at work by pairing it with a cardigan, print dress and stockings. You can cinch your waist with a skinny belt over the dress to further accentuate your look. Accessorize with a watch or a silver bracelet.
5. Torino — With a little bit of edge and a touch of class, there's nothing quite like the Torino. This boot comes in a wide array of colors, including a classic brown herringbone and playful cognac stripe. For a business casual look that's sure to turn heads, wear a midi-length velvet skirt in a jewel tone like emerald or ruby with a gray sweater. Accessorize with a gold bracelet and aviator sunglasses to finish off the outfit.
6. Barcelona — In addition to being a stylish boot you can wear anywhere — from the office to your after-work happy hour — the Barcelona is also one of our great shoes for women with bunions. Functionality and style come together when you wear the Barcelona. To make your work outfit stylish, grab the Barcelona in a bold color like cherry herringbone or a fun pattern like cognac stripe. To style the Barcelona for work, wear your ankle bootie with a matching skirt suit and Oxford shirt.
Shop Professional Shoes for Women
In general, ankle boots with a rounder toe and a lower shaft or thicker block heels give a more relaxed vibe to your work outfit. If you're looking for a sharper look, go for ankle boots with a pointy toe. From the essential Upper Monterey Boot to the playful Aiken, you'll love all the ways you can style professional shoes for women from Charleston Shoe.