Back To Blog
What Are the Best Shoes for London Vacations?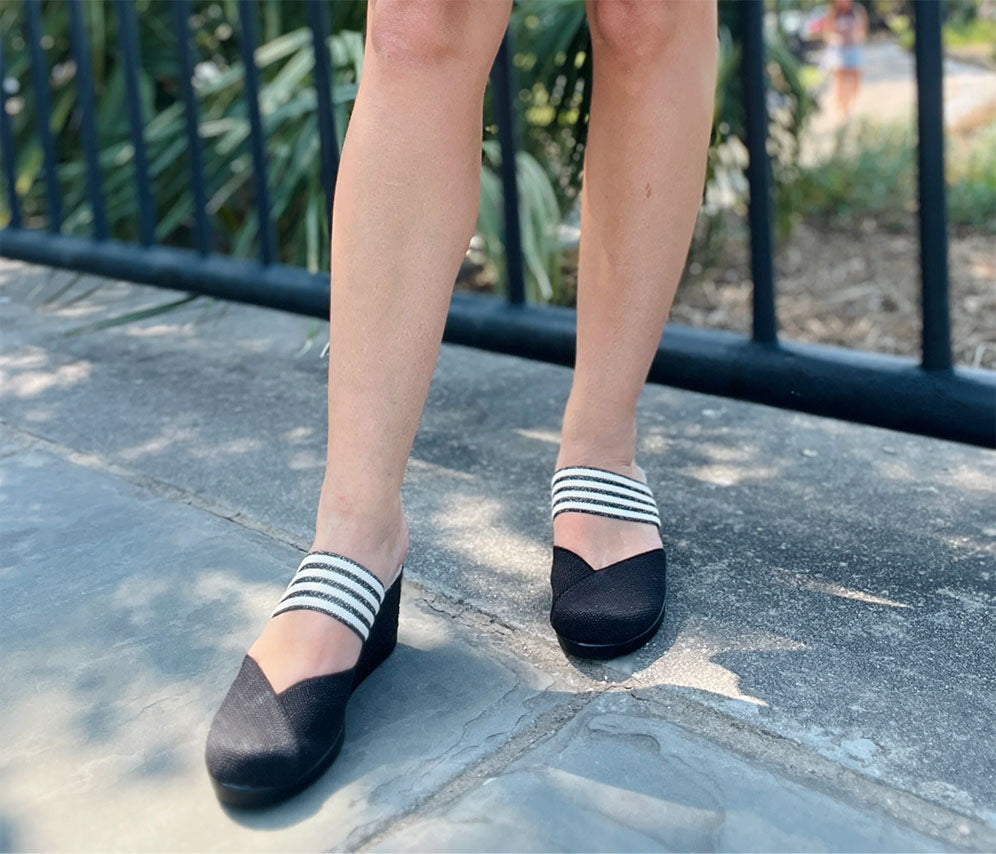 It's time for you to experience the other side of the pond, which means that you'll want shoes that you can wear, whether you're having a relaxing afternoon tea or strolling through Hyde Park. From exploring iconic London landmarks like the Tower of London or walking through the Covent Garden, you'll want to make sure you have the best walking shoes for this posh and vibrant city. With London's diverse landscapes and often unpredictable weather, you'll want travel shoes for women that are both stylish and comfortable. Let's take a look at the best shoes for your London vacation.
Shop Travel Shoes for Women
1. The Dottie — Our latest Dottie is a 2" covered wedge heel that's bunion-friendly and machine washable. If you plan on exploring the busy streets of London on foot, you'll want a shoe that's easy to wear and easy to wash. If you love the practical style of the Dottie, be sure to look at all of our washable shoes for women. Life doesn't stop when your shoes get dirty, so all you have to do is throw the Dottie in the wash after your vacation ends and those shoes will look good as new.
Browse Our Washable Shoes for Women
2. The Gladys — According to Evan Evans Tours and by the UN definition, London is technically a forest with over eight million trees. The amount of green space you can enjoy in London is probably different from what you're used to in a city. Because of the landscape and the weather, you'll want to be sure you have shoes that are practical enough for both elements of classic city life and the "forest" that is London. For a shoe that does it all, check out the Gladys. This mini espadrille heel is perfect for all-day wear, whether you're sightseeing at the hidden gem of Battersea Park or taking a stroll through the Kew Gardens.
3. The Ravanel — For a low heel with straps and sass, you'll love the look of the Ravanel. This faux espadrille will allow you to step out in comfort and confidence as you're watching the Changing of the Guard or taking that day trip to Paris you've been dreaming of.
4. The Rita — The Rita is the kind of wedge that can take you from your open-top bus tour as you take in all the city sights to your evening, where you dance the night away in the West End. Thanks to the instep strap and crisscross straps for extra support and comfort, you'll be ready for whatever adventure awaits in London Town.
5. The Cannon — Our best-selling Cannon is one of our most comfortable sandals. Our ultimate year-round sandal is a chic option to wear when you're taking a cruise on the River Thames or want to take some cute pics while you're taking in the city view on the London Eye.
Buy Comfortable Sandals
6. The Chloe — Get inspired by the Chloe and our other popular travel shoes to figure out which shoes you want to pack for your London trip. This closed-toe espadrille is the perfect shoe to wear when you're going through a magical London Harry Potter-inspired guided walking tour or taking a day trip to see the famous Stonehenge.
The best shoes for any vacation are ones that offer both form and function. You'll be able to walk the cobble streets and bustling neighborhoods of London in any of our shoes for women with bunions. Even if you don't have bunions, these shoes offer extra comfort and support and prioritize durability and comfort. Just slip into any of these shoes and you'll be embarking on an unforgettable journey, whether you're shopping at Harrods or posing in front of Buckingham Palace.