Back To Blog
6 of the Best Shoes for Walking Tours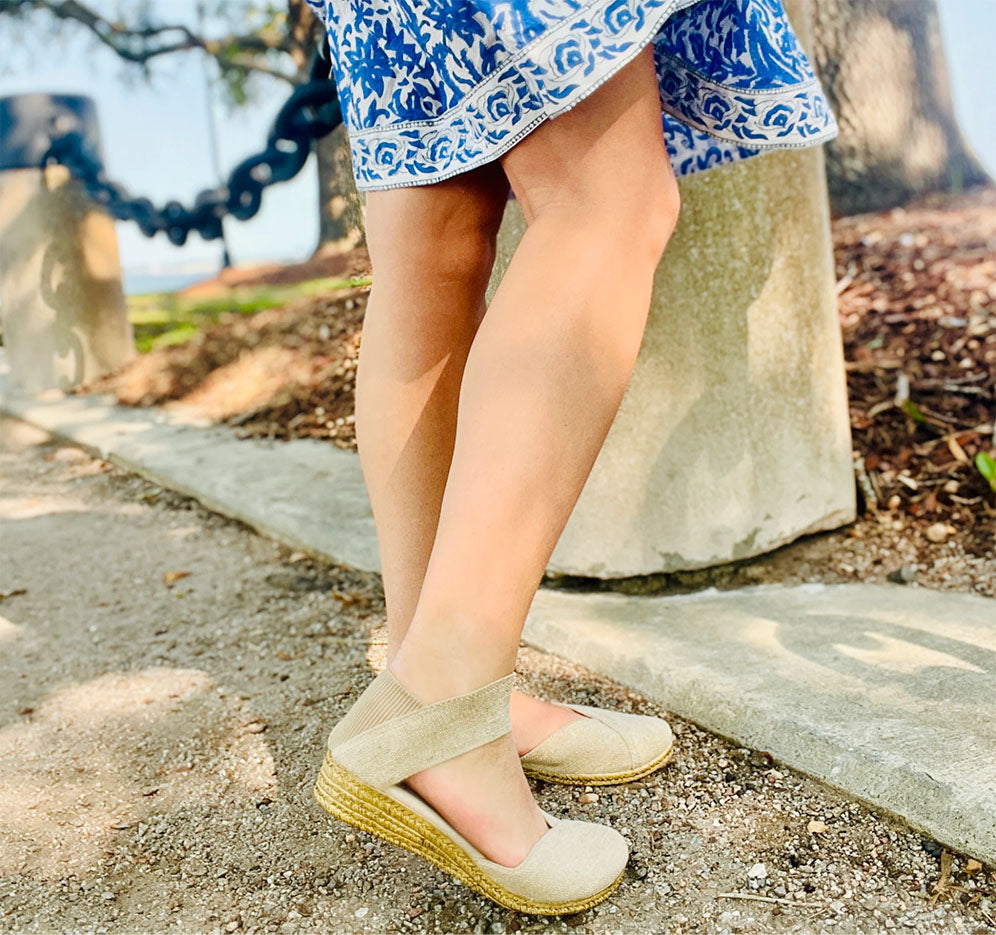 From urban walking tours that will have you bouncing from landmark to landmark to that pub crawl downtown that you always wanted to try, you'll want to make sure you have the best walking shoes. It doesn't matter if you're doing a day hike with your best girlfriends or just looking for the ideal travel shoes for women that are easy to wear on your next vacation. To help you pick the right kind of shoes, we've come up with our list of six of the best shoes for walking tours that offer support, cushion and, not to mention, style.
Explore Travel Shoes for Women
1. The Chloe — One of the most important things you'll want to consider when choosing a travel or walking shoe is one that's versatile. You can only bring so many shoes when you travel, and if you're going to be walking all day, that's just one pair of shoes on your feet. One of the newest designs at Charleston Shoe is the Chloe. We've designed a lower-heeled version of our popular closed-toe espadrille. Thanks to the padded insole and 1" espadrille wedge heel, this sandal is the perfect walking shoe through all the seasons.
2. The Dottie — For a walking shoe that offers sophistication and fun, you'll love the Dottie. This 2" covered wedge heel is perfect for women who want a machine-washable and bunion-friendly shoe. If you're doing a walking tour that involves walking on grass, dirt or other diverse terrains, having this comfortable and washable walking shoe will make it easy to wear for hours on end, and you'll be able to just throw them in the wash at the end of the day.
3. The Bermuda — Every woman needs a comfortable shoe that offers both support and style. That's where the beachy Bermuda comes into play. It's all in the details, like the faux-jute platform and stretchy, wrap-around ankle strap. It's the kind of platform wedge that can take you from day to night, certainly a stylish choice if you're doing a night tour. Get it in a classic linen for a minimalist look or a fun denim pattern to add some texture. If you love the playful style of the Bermuda, be sure to check out all of our comfortable wedge sandals and heels.
Browse Comfortable Wedge Sandals
4. The Cecilia — Dressing for a walking tour for the spring or summer isn't complete without the Cecilia. This dual strap slide pairs wonderfully with boho dresses or wide-leg trousers. Whether you want to make a statement with a two-tone pink and orange Cecilia or a more understated black slide, your walking tour look is sure to be as comfortable as it is chic.
5. The IOP — If you're doing a walking tour during vacation, consider wearing the IOP.  Get ready to upgrade your flip-flop game with the IOP. From going on a sailing adventure to embarking on a whale-watching tour or just lying on the beach after walking on the boardwalk, you'll love the laid-back look and feel of this 1" faux cork wedge heel. Unlike rubber flip-flops, the fabric thong of this sandal offers extra comfort. The IOP continues to be one of our most popular travel shoes for women that's ready to come with you anywhere.
6. The Cannon — There's a reason why the Cannon remains one of our most popular and best-selling sandals. When you're on your feet all day, especially during the warm weather months, your feet can expand and contract depending on the weather and how much walking you've been doing. The crisscross stretchy straps of the Cannon will move with you as you walk, allowing your feet to expand as needed for all-day walking and wear.
Shop Our Professional Shoes for Women
We hope you're just as excited about your next walking tour adventure as we are! To strike a balance between the fun adventure of a walking tour and the stylish appeal of a trendy shoe, take a look at our professional shoes for women. These comfortable and fashionable shoes are inspired by our women-owned brand, and we believe in working hard and looking good while doing it. Don't let sore feet or bunions slow you down — step into style today!