Back To Blog
The Cannon: The Best Travel Shoes for Women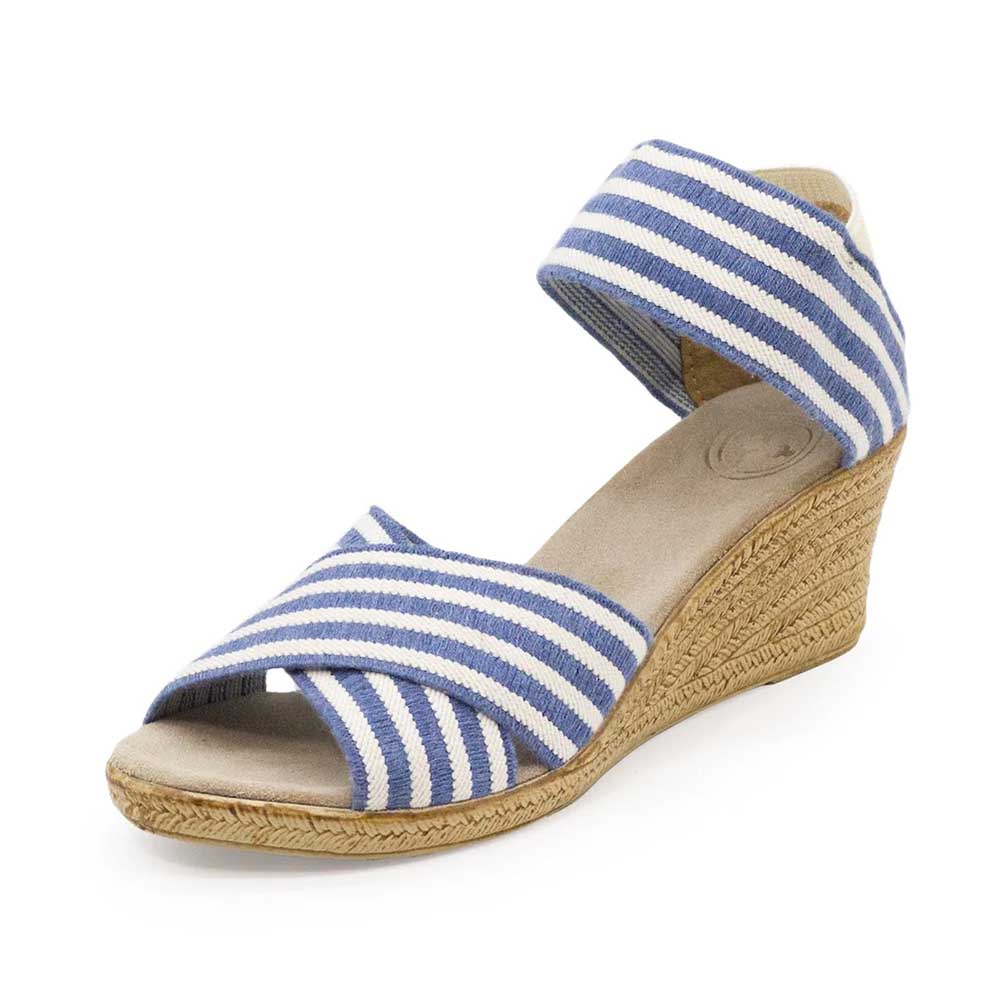 When you think of travel shoes, you're probably thinking of the same shoes you wear to the gym or on weekends, like athletic shoes for women, but there are so many other options that are both comfortable and chic. From pretty stripes to bold and beautiful solids, there are plenty of reasons why you'll want to make sure you pack at least one Charleston Shoe Co. Cannon in your travel bag. These pretty sandals are great travel shoes for women! Check out all the different ways you can style it for your vacation or work trip and why you should pack this gorgeous heeled sandal. 
1. The Cannon: Your Perfect Travel Companion — Unlike other accessories that you pack for your travels, you're going to actually wear shoes every day, while that necklace you were hoping to wear might end up forgotten at the bottom of your bag. When you're looking for comfortable heels for women, look no further than the Cannon. 
These sandals are your perfect travel companion that can easily be tucked away in your carry-on bag or worn on the plane when you want to travel in style. Unlike with sneakers, your feet will be able to breathe when you're traveling. Hitting the open road and going to be stuck in the car for hours? Stick to wearing the Cannon so you can put them on and take them off with ease, all while being able to wiggle your toes or give yourself a pedicure.
Take it from one of our customers, Stacie, who says, "This shoe is amazing, literally walked 9 miles a day up and down cobblestone streets in Greece for days. No blisters and shoes still look like new."
Shop Our Cute Flats
2. How to Style the Cannon — There are tons of fun and easy ways to style these heels to make them feel as comfortable and chic as cute flats. To style the Cannon for a fun spring or summer look, try wearing an oversized blazer and a tank and shorts. Finish off the look with a crossbody bag.

Another warm weather look you'll love is a floral dress, your Cannons and a straw bag to accessorize. This sweet summer look will take you anywhere from the office to Sunday brunch with your girlfriends. For a look that has some edge, try a padded-shoulder tank or peplum blouse and straight-leg jeans with the Cannon.
3. Style Benefits of Wearing the Cannon — According to MasterClass, the trick to using footwear as an accessory is to get shoes that are not only fun to look at but also comfortable to wear. It takes a shoe from being just another fashion accessory to an integral part of your everyday wardrobe. The Cannon is a well-designed low-heel sandal that's perfect for everyday wear. 
The Cannon Two-Tone is a great choice whenever you want a statement piece. If you prefer something more neutral and want the rest of your outfit to make a statement, get the Cannon in a neutral-toned hue.
4. Practical Reasons to Pack the Cannon — Besides being fashionable, the Cannon is a practical shoe to wear all year long. Your feet can breathe and take in the sunshine. There's nothing quite like the comfort of sandals that feel like an extension of your own feet. Many podiatrists recommend wearing sandals to help support your feet instead of heels or completely flat flats. Sandals with short heels or ones that help promote proper foot posture will help you walk in these kinds of shoes all day.
Buy Our Comfortable Sandals
Now that you've learned all about both the practical and fun reasons to pack your Cannon, make sure you grab your pair of comfortable sandals today. In addition to getting your perfect pair of travel shoes, you can finish off any outfit by getting fun accessories like hats, scarves and bags at Charleston Shoe Co. No matter your personal style, you're sure to find cute and affordable pieces that you'll love for years to come.