Back To Blog
How to Build Your Own Shoe with Charleston Shoe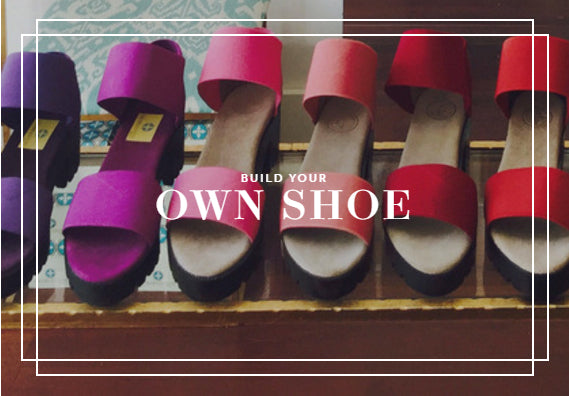 If you've been looking for your dream shoes online, you've come to the right place. Did you know that Charleston Shoe offers custom shoes to our customers? We can help you build your own shoe and get it delivered to your door in just a few business days. All it takes is a few simple steps.
Step One: Pick Your Shoe Size
The first step to building a shoe is picking your shoe size. Before you even start adding shoes to your shopping cart, you need to know your size. Keep in mind that some shoes need a little extra wiggle room, so you may want to size up if you don't want the shoe to feel too tight. Others may run bigger than you'd like, so be sure to ask if you have any questions about sizing for your shoe size and shoe type. For example, if you're normally a half size, the Benjamin flats with criss-cross laces fit better when you size down. Compare that to the Chelsea Rain Boot, and for those with half sizes, this high-top boot fits better when you size up.
Step Two: Pick Your Shoe's Sole
Your shoe's sole is like the soul of your shoe! It's the bottom part of the shoe, and there's the insole and the outsole of the shoe. The insole of your shoe is the part of the shoe that is directly on the bottom of your foot while the outsole of your shoe is the part of the shoe that hits the ground when you walk. For example, the Carolina with a faux espadrille bottom has an elastic upper and padded insole. While slip-on shoes like flats are easy to slip into, you may want to opt for a padded insole if you'd like more cushion and comfort for your feet.
Step Three: Pick Your Shoe's Color
Next, you'll want to pick your shoe's color. Are you looking for a fun coral to wear this summer or a bold lime to wear during those warm sunny afternoons? Or maybe you'd prefer something more subtle like black and gray plaid or cobalt and white so that your shoe will easily match with everything else in your wardrobe.
Step Four: Finalize Your Custom Shoe Order
The last step is to go ahead and check out. To complete your order, e-mail our Customer Service team at customerservice@charlestonshoeco.com or give us a call at 855-996-SHOE (7463). Still have questions about customizing your blue loafers or canvas shoes? Charleston Shoe is happy to answer any questions you have about how to create custom sneakers and let you in on any exclusive offers we currently have for our customers.
FAQs
Can I Give the Gift of a Custom Shoe to Someone Else?
Yes! Give a fellow shoe lover the gift that keeps on giving with a Charleston Shoe gift card. Take a look at our online gift cards here so they can redeem them in store, online or by giving us a call at 855-996-SHOE (7463).