Back To Blog
6 Stylish and Comfortable Shoes for Walking All Day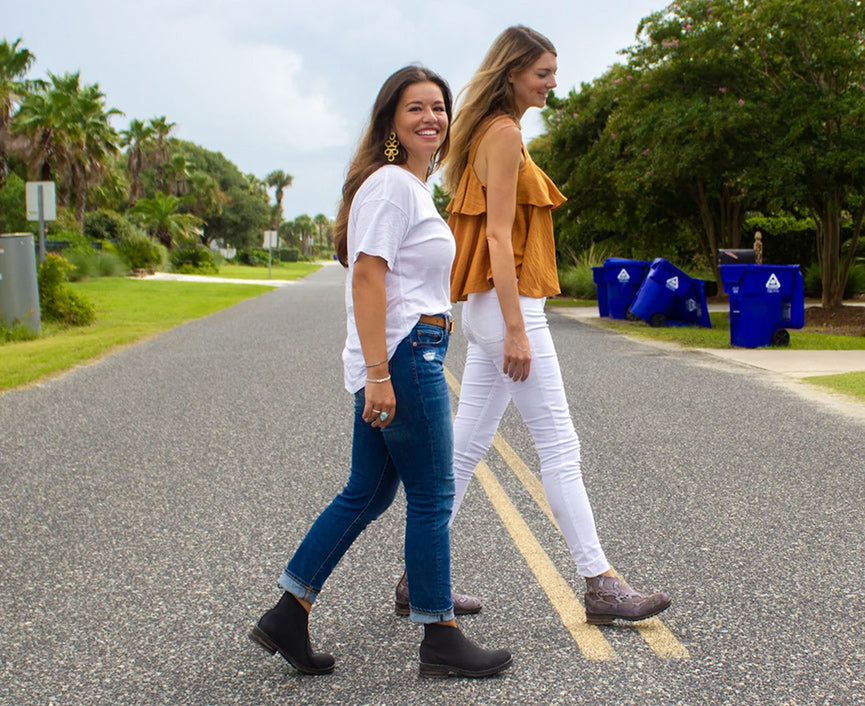 Shoes should be stylish for all sorts of ensembles and outfits and comfortable enough to wear and walk around all day. The height of the heel, the weight of the shoe and even the fabrics and materials that wrap around your foot all play a significant role in the support and all-around comfort that a shoe provides. 
So what are some of the most comfortable shoes for walking all day? From closed-toe shoes like sneakers and loafers to thongs and sandals, we have put together a list of what we find comfy for long-lasting wear to leave you blister-free.
1. Low-Top Sneakers
These days, sneakers can be worn practically anywhere. In addition, they are extremely versatile, inviting you to throw them on with jeans and a tee or athleisure wear. Luckily, they're also super comfortable shoes for walking all day. 
Charleston Shoe Co. introduces the Chessey, our low-top sneaker that offers both style and comfort. These low-top sneakers are perfect for hitting the pavement day or night with an extremely supportive footbed and padded insole!
Explore Our Comfiest Closed-Toe Shoes
2. Loafers and Flats
Loafers and flats have to be the second most comfy shoe for walking all day. Loafers offer just enough support in the heel, are light as a feather and give you a breathable, flexible top in the ankle region if you so desire. In addition, they're a breeze to slip on and off when you need to take a break at the park bench or grab a quick lunch. 
Flats come in a wide range of versatile and chic styles, too. Choose from slip-on loafers and flats with a one-inch stacked heel or even rubber bottoms for traction at each step. Plus, you'll find padded insoles for extra cushion and support. 
3. Ankle-High Booties
Like the song says, "These boots were made for walking." Ankle-high booties are the perfect shoe for walking all day. With extra ankle support and a flex point, ankle-high booties give you just the right amount of toe protection.  
Charleston Shoe Co. offers a huge collection of comfy boots for women, designed to form and flex nicely to your foot without chafing or slipping. From knee-highs to booties, boots are also an excellent bunion-friendly shoe, offering extra width in the flex point region. Furthermore, they often feature padded insoles and rubber bottoms to take on any day's activities. 
4. Slip-on Booties and Sneakers
Slip-on shoes are a nice option when you plan to be on your feet all day, too. Many Charleston Shoe Co. booties and slip-on sneakers are designed with stretch elastic fabric that offers a form-fitted contour and silhouette and can be slipped on and off with ease. Plus, the fabric material is unbelievably lightweight and is even machine washable!
5. Knee-High and OTK Boots
Knee-high boots and over-the-knee boots (like our SoHo!) are perfect for ladies with long strides. Gripping around your entire foot and lower leg from your toes to your shin, knee-high boots are guaranteed to keep up with your pace without skipping a beat. They're also perfect for protecting your leggings, skinny jeans or pants on a wet or rainy day. 
Charleston Shoe Co. offers several styles of rain boots that give off an equestrian-inspired design along with materials like waterproof suede to take on the elements and then some! Extra details like a lower notched back and leather gusset strap make our rain boots and knee-high boots comfortable shoes for walking all day – any day! 
6. Ankle Strap Sandals
Taking a detour from our all-day wear, full-coverage shoes like boots and sneakers are sandals. When choosing comfortable shoes for walking all day, sandals can get a bad rap and are often frowned upon. However, we beg to differ! Sandals make exceptionally comfy shoes for women with bunions. The trick is finding the right type of sandal. 
For example, ankle strap or slingback strap sandals offer breathability for feet on a hot humid day. Unlike a basic rubber thong, materials like criss-cross elastic fabric straps won't rub the skin raw or leave blisters. Sandals can also come in all heel heights, from platform wedges to one-inch faux cork wedge heels.
Keep Up the Pace in Charleston Shoes
From boots to flats to sandals, Charleston Shoe Co. invites you to try on our shoes to see just how comfy they can be. Once you feel how form-fitting they are, you will instantly understand why ladies love to wear them about town!