Back To Blog
Dress Them Up or Dress Them Down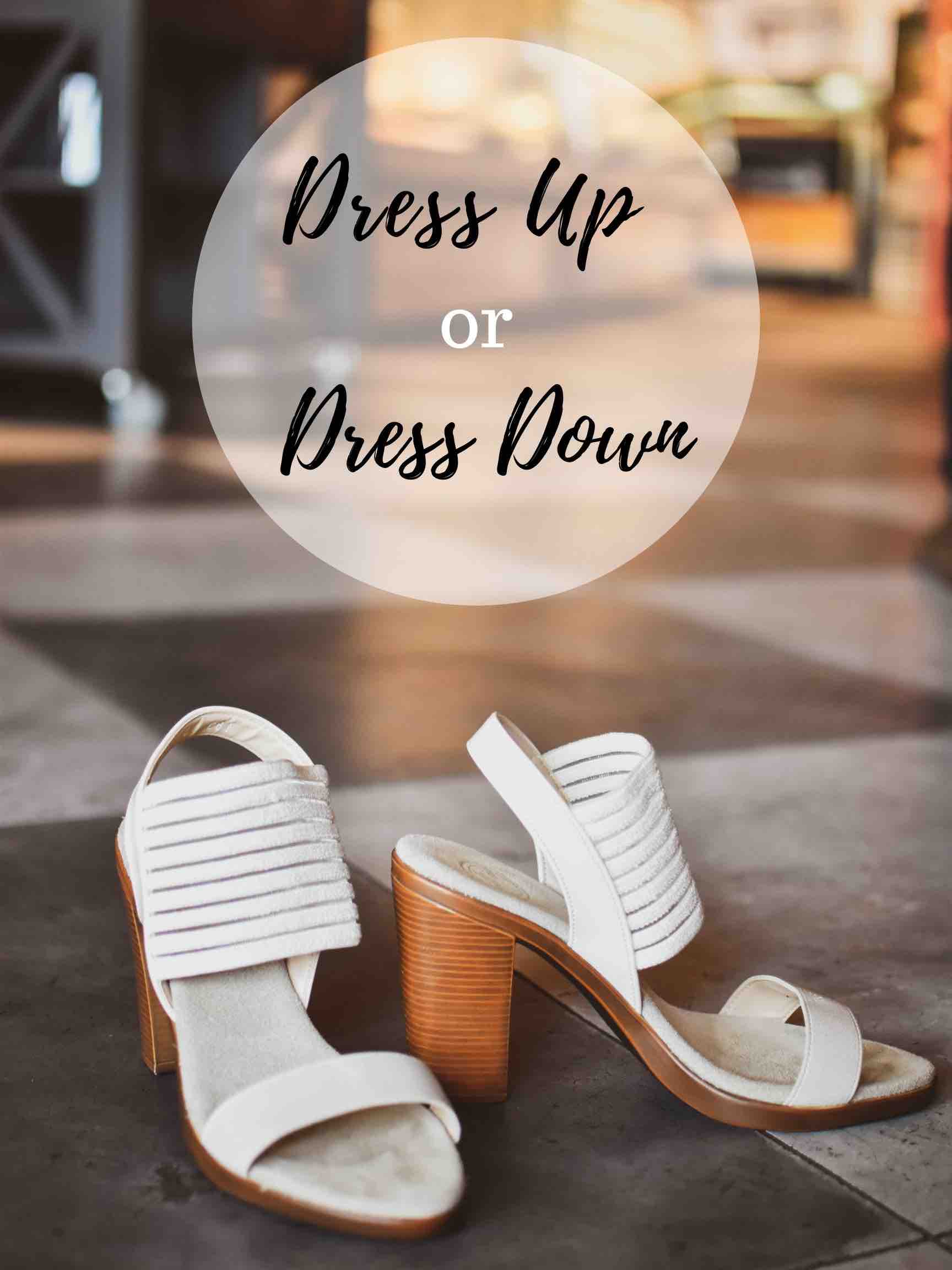 Change your outfit, not your shoes! 
These shoes can truly take you from day to night with the ability to be dressed down or dressed up. Pair them with white jeans or your favorite party dress for two completely different looks!
The Harbor
The Harbor is a high wedge option that offers ultimate comfort — take it from brunch with your girls to date night with your guy! Start your day by wearing a white tee and tailored skirt to work. End your day by switching to a sleek sleeveless cocktail dress. The Harbor is designed with a chic stacked faux-wood heel that can easily take you from your Monday morning board meeting to your Friday night cocktail hour. Get the Harbor in different colors like neutral-toned linen when you're looking for something more simple during the day or a bold red when you want a statement piece at night.
The Tribeca
Ahhh, our new favorite is finally here! Meet the Tribeca, who is just too pretty for words. Take the Tribeca from your business meeting to happy hour! Grab the Tribeca in black and wear black from head to toe for a cosmopolitan chic look that works just as well on the streets of Manhattan as it does for a Main Street weekend vibe. You might not think the words comfy and heel go together, but wait until you slip into the Tribeca. This pretty shoe can instantly dress up any casual outfit to take it from day to night.
The Fairchild
The Fairchild is a classic lower-pointed heel, perfect for church or a day out on the town with your girlfriends! When you're searching for the types of shoes that can take you from cobblestones to cocktails, you'll want the Fairchild in a stunning gold or glittery silver. Thanks to the 2" heel and elastic straps, you'll be able to walk in this shoe for hours. Rock it with your favorite pair of jeans and a plain white or graphic t-shirt.
The Grace
The Grace embodies style and functionality with the fancy little heel and flattering straps. Wear the Grace for running errands or for your next dinner party! From multicolor to solid, the Grace is perhaps our most versatile shoe. You can wear the Grace with anything from a floral sundress to a button-down and chinos. 
The Telfair Boot
If you're looking for a shoe that's perfect for year-round wear or are simply looking for a simple yet sophisticated bootie, get the Telfair. When the winter chill comes and you need winter boots with style, wear the Telfair in red.
The Federal
If wingtip boots are more your thing, try the Federal. Pair this trendy boot with skinny jeans and an Oxford shirt during the day. At night, you can keep the jeans and the Federal but switch to a sparkly top and leather jacket to add some flair.
Shoes and Accessories for Everyone
Charleston Shoe Co. is the place to go for shoes for everyone on your list. We also design men's shoes like white sneakers and a penny loafer. When he wants simple yet polished plain-toe shoes, we've got him covered.  If you're not sure what to get for the shoe lover who seems to have every shoe in their closet, check out our gift guide. Whether she wants to rock mod-inspired Chelsea boots or hit the ground running in running shoes, you're sure to find the perfect pair at Charleston Shoe Co.