Back To Blog
Help! How Do I Know If I Have Wide Feet?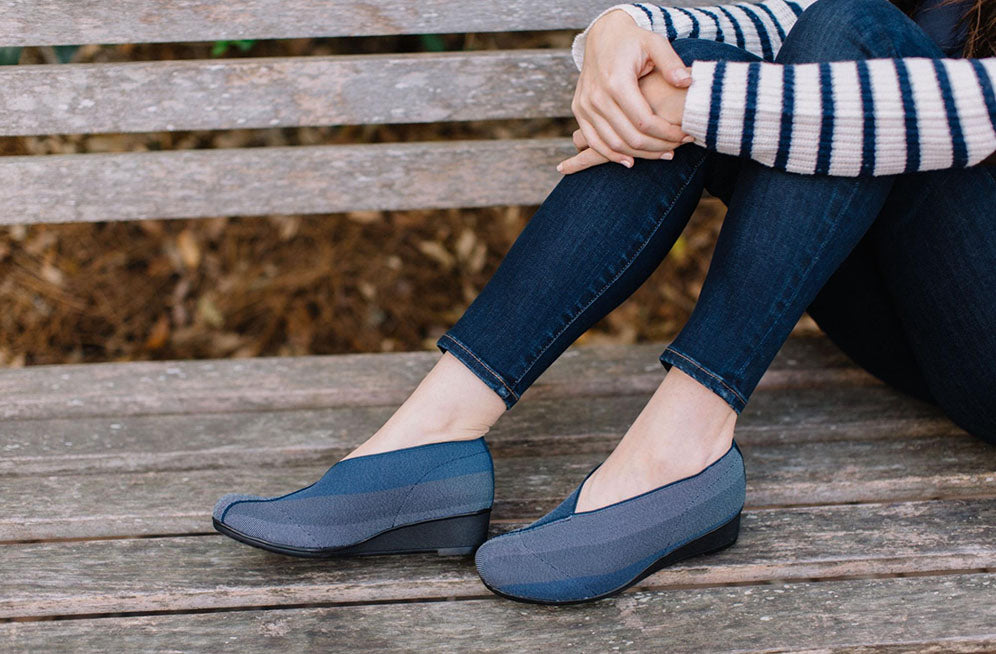 To put it simply, each and every pair of feet is different. Though there are general sizes, half sizes and widths to help you determine your shoe size, it's important to know your exact foot size and shape so you can choose the best shoe styles for your feet. In addition to your shoe size, you can determine whether your feet are considered narrow, regular or wide. Here's what you need to know!
How to Determine Your Foot Width
Getting to know more about your foot size is easy and only takes a few minutes of your time. To determine your foot width, all you need is a piece of paper, a ruler and something to write with. Stand on a flat surface with the piece of paper directly beneath your foot. Using the writing utensil, carefully trace the outline of your foot all the way around and then step off the paper. You should now have a realistic outline of your exact foot shape, which you'll use to measure and determine their width. Since left and right feet often differ from each other just a little bit, you might think about outlining both of your feet to see how their measurements compare! 
Shop Comfortable Work Shoes for Women
Once your outlines have been drawn, it's time to take some measurements. The width of your foot is the space it takes up from side to side as opposed to the toe to the heel, which is your foot length or shoe size. Find the widest part of your footbed on the outline and take down that measurement in inches. You can also get a more exact number in centimeters and convert the number to inches afterward. Finally, compare your shoe size to your shoe width. A regular or medium foot width is a little less than half of your foot size in inches. For example, if you wear a size 7 shoe, then a regular foot width would be around 3.45 inches, whereas a wide size 7 foot would measure anywhere from 3.75 to 4.25 inches. 
The Best Shoes for Wide Feet
Having wide feet doesn't mean your shoe options are limited! Instead, knowing your foot width can help you decide which styles are best for your feet. Whether you're looking for a pair of cute boots or searching for the most comfortable shoes for women with bunions, Charleston Shoe Company has you covered. Speaking of boots, you can absolutely rock them if you have wide feet. For the most comfortable fit, try styles with a square or round toe as opposed to a narrow or pointed toe. As for bunion-friendly shoes, it's all about giving the shape (and more importantly, width) of your foot room to rest inside the shoe without feeling too squished or compressed. Try a pair of comfortable flats with an elastic upper that fits your exact foot shape! 
Explore Cute and Comfortable Flats
Wide shoes aren't just for special occasions or certain styles. You can find a pair of cute and comfortable work shoes for women that look great with your work wardrobe and will keep your feet feeling great from 9 to 5 and beyond. Shop Charleston Shoe Company and find your new favorite styles today!