Back To Blog
How Should Boots Fit? Your Questions Answered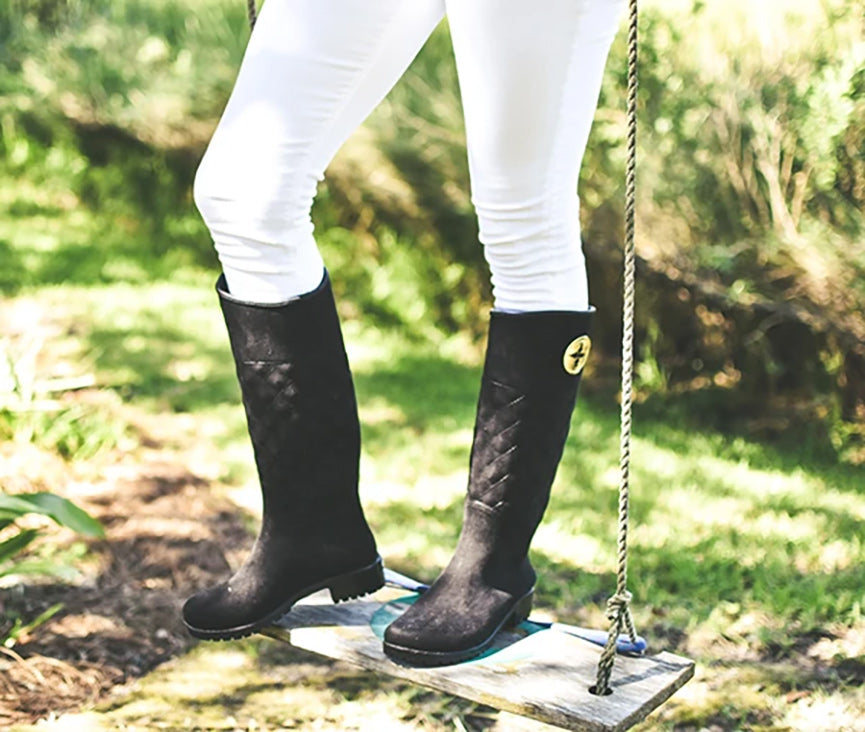 Boots are part of every woman's shoe collection. Whether they're for trail riding, mucking around the garden or getting dressed up for a girls' night out, boots are versatile and stylish. However, boots that are too tight can lead to corns, ingrown toenails and conditions like tendonitis and athlete's foot. So, needless to say, choosing the proper boot size is extremely important. 
So how should boots fit? From ankle to toe and in between, here is how to find a perfectly snug (but not too snug!) boot or bootie. Because a pair of women's everyday boots should look super cute and stylish, but feel comfortable and supportive, too!
How Should Boots Fit? Snug, But Not Too Snug
Boots should fit snug but not too snug. What does this mean, exactly? Let's go over some of the try-on tests and signs that your boots may be too tight or loose.  
Find the Flex Point
When trying on a pair of cute boots or booties, you want to feel out the flex point. What is the flex point, you may be asking? It is the area of the boot (or a shoe, in general) that naturally creases or bends. And ultimately, you want the flex point of the boots to align with your foot's own flex point — i.e., that area between the toes and ball of the foot. 
Take a short tour around the store or jaunt in your home wearing the boots to feel out the flex point. Is the flex more toward the toe cap or toward your arch? Then the boots might not be a proper fit or style for your feet and lack the appropriate support. Stiff leather boots are trickier and don't have quite the same obvious flex point, but it's still there and can eventually be broken in.
Feel the Heel Out
Can you feel some give in the heel? That's perfectly okay! Ideally, a boot heel should offer a slight give and never feel too snug. However, consider the material of the boots you are trying on. Boots made of leather or vegan leather often break in and stretch after a week or two of wear. If the boots are still a bit too loose, try thicker socks or even a heel grip for extra padding. 
Determine Width When Your Feet Swell
These boots were made for walking – right, ladies? So when you walk, stand or even sit all day in a pair of boots, or any shoes for that matter, your feet will swell. It's just a fact of life. So when you try on a pair of boots, do so at the end of the day when your feet are at their widest. This will give you a better idea of a half-size increment, assuring your boots will not feel too tight when your dogs are barking at the end of the day or leave your foot in pins and needles. 
Accommodate for Extra Arch Support
For those with flat feet or plantar fasciitis, it also pays to use insoles or orthopedics, which should be worn when you try on boots. To accommodate a thicker insole or orthotic for arch support, it may help to go up a half size. However, stick to your regular boot size if you plan to wear the more common slimmer orthotics. 
Make Sure Your Toes Can Wiggle
Pay attention to the toe box of your boots. Ideally, boots should offer an inch or so extra room for your little piggies. It's okay to have extra room in the toe box. One trick is to give the boots a light kick with the toe. If your toes cramp or crunch up inside the boot, you should go up a half size. 
A Note About Boots and Socks
Socks play a huge role in how boots fit. If you plan to wear knee-high or cute rain boots for women in the fall or winter with thick socks, then it's best to go up half a size. However, for booties you might step out in during the summer months, a lightweight pair of ankle socks might not warrant going up a size. Still, even if you choose to go half a size up to accommodate thick socks, it can also offer extra room for swelling feet on hotter days. We recommend bringing along a pair of testing socks to try on with the boots.  
Shop Cute Rain Boots for Women
Discover Comfy and Cute Boots
Looking for quality-made comfy boots for women? The search is over! Charleston Shoe Co. offers a wide range of boot styles, from rain boots to booties and beyond. Explore our online store or swing by a shop today!