Back To Blog
Your Summer Survival Guide: How to Clean Sandals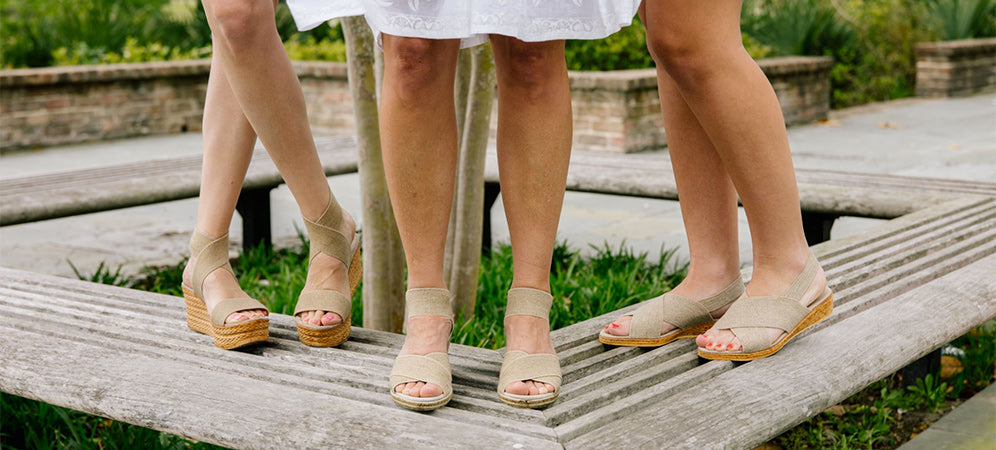 Sandals are an essential when it comes to your warm weather wardrobe. They're perfect for the summer months because most styles offer minimal coverage, breathable designs and a lightweight structure, allowing your feet to stay cool even when the summer heat is in full swing. Since many summer events take place outside, you might notice dirt, stains and other signs of wear on your sandals after a while. The good news is you can clean your Charleston Shoe Co. sandals quickly and easily, allowing you to get back to wearing them for all your favorite summer activities! Here's how to clean different types of sandals and keep them looking good as new all summer long. 
The Best Ways to Clean Your Sandals
Keeping your sandals clean is an easy way to make your summer outfits look sharp and stylish. When dirt, water, mud and other messes get in the way and make your cute sandals for women look dull or discolored, there are a few ways to clean them. You can start by taking a good look at your sandals, which will help you assess the damage and make sure you get every spot and stain! Look for water stains, dirt and food stains and make sure to remove any rocks or debris from the bottom of the soles. 
Once you have taken the time to see which parts of your sandals need the most attention, it's time to get cleaning. Many Charleston Shoe Co. sandals are part of our collection of washable shoes for women, meaning you can simply throw them in the washing machine and wait for them to come out looking spic and span. If your sandals feature an elastic upper or a similar water-friendly material, washing them on a delicate cycle or by hand with a small amount of dish soap is a great option for cleaning the entire shoe. This will remove dust and dirt as well as most stains from food, beverages and raindrops. 
Though a single scuff, pen mark or splash of coffee might seem like a small imperfection, it can distract from the overall appearance of your stylish outfit! It's also important to remove these small spots as soon as you notice them so they don't set in over time and become more difficult to clean. If you have dirt or a small stain on a pair of spot clean-friendly shoes like your cute wedge sandals, all you need is a piece of cloth, warm water and mild soap.
Explore Our Stylish and Comfortable Sandals
To start, wet the affected area with a bit of warm water and remove any loose dirt or grime with the cloth. Follow up with a tiny bit of dish soap and repeat the process until the stain is gone. For super stubborn stains, put in a little elbow grease and scrub the spot with baking soda and a toothbrush. Allow them to dry and they'll be as good as new!
Clean and Comfortable Sandals for All
At Charleston Shoe Company, we know it can be a struggle to find comfortable sandals that check multiple boxes. Our checklist for summer sandals is simple: stylish designs, durable materials, an affordable price point and unmatched comfort. Try a pair and see why so many wear them, wash them and love them!