Back To Blog
A Full Guide on How to Clean Suede Boots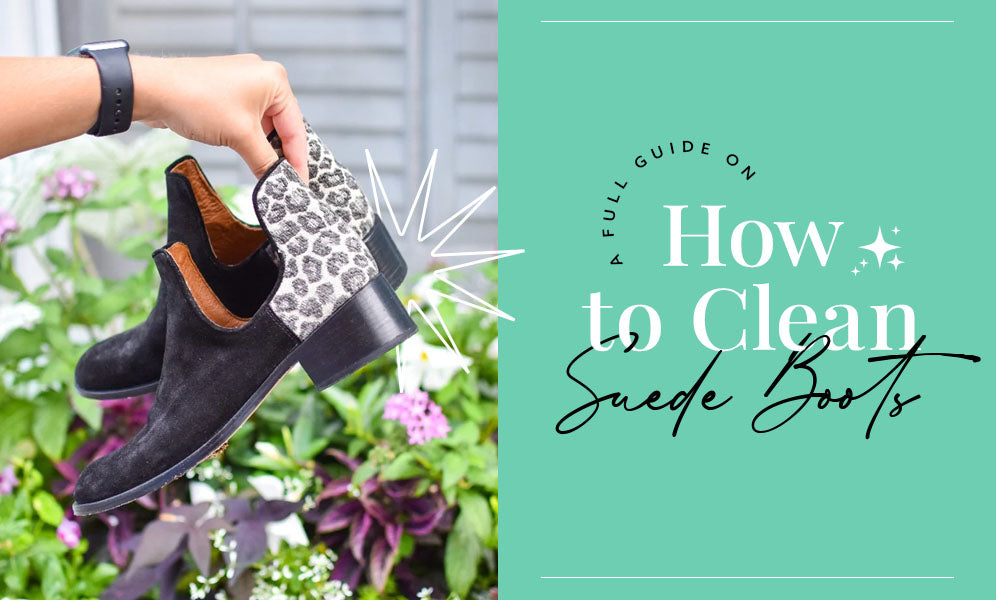 Maybe you already have your perfect pair of suede boots in your closet, or maybe you've been thinking about getting a gorgeous pair of suede boots but have been hesitating to press that "add to cart" button. Sure, suede boots are cute and practical, the best of both worlds, if you will. However, it's suede. It's not like a cotton t-shirt or your gym sneakers. Wondering how to clean your suede boots without ruining them? It's easy! While you can wash your pair of washable shoes for women, if they're made from suede, you'll want to do so in a way that is safe and protects the suede itself. We've put together this handy guide to help you clean your suede boots in a pinch.
The History of Suede Boots
Before we dive into why it's so important to clean your suede boots, let's take a look at how getting suede boots became so popular in the first place. While boots were once regarded as just the kind of shoes you wear when it's bad weather outside or for outdoor activities, boots made a return to the fashion scene in the '60s.
The History of Suede in Fashion
Before suede boots entered the fashion scene, suede was historically used for other pieces of clothing. The word "suede" comes from the French term, "gants de Suede," meaning "gloves of Sweden." When imports of Swedish leather were introduced to the French nobility, they fell in love with the way Swedish artisans used the soft, inner skin of the hides to create soft leather gloves. The material became known as suede. Suede was mainly used in the making of gloves, but other European artisans used suede for other clothing items like bags, jackets and, you guessed it, shoes.
When Did Suede Boots Become So Popular?
According to the Fashion Institute of Design & Merchandising Museum in LA, known shorthand and locally as the FIDM Museum, the rise in popularity of suede boots came with the arrival of mini skirts in 1965. Because the mini skirt rested above the knees, that meant legs became a new focal point in fashion. How would women decide to style their legs and feet moving forward? How would stylish boots come into play? During the 1960s, boots transitioned from functional choices that were worn mainly for practical reasons to actual fashion statements. Boots were now worn by women throughout the entire year. We began to see synthetic materials paired with real leather or suede. This made for fashion-forward and whimsical footwear designs. 
Suede Boots Today
While retro boots made from synthetic materials like plastic show their age and become sticky, yellow or brittle and cracked over time, boots made from durable materials like suede remain in good condition even after decades. Today, you can wear suede boots for any occasion — from having a stylish pair to wear for your next date night out to having comfortable shoes for your daily work commute.
Buy Comfortable Work Shoes for Women
Why You Should Wear Suede Boots
There are plenty of advantages that go along with wearing suede. You might already have a pair of suede boots or are looking to purchase suede flats so you'll have a nice new pair of cute flats for women. Even then, you might not know exactly what suede is, where it comes from and why you should definitely have a pair of suede shoes. Let's take a look.
What Is Suede?
If you confuse suede for leather, don't worry. It's actually quite common to confuse the two. That's because suede is a high-quality type of leather. Suede comes from the underside of animal hide. When you feel a suede boot, you'll feel just how soft and somewhat fuzzy that gorgeous pair of boots feels as you run your hand along the material. Compared to full-grain leather, suede is made by separating the underside from the top of the animal hide. Because the leather is split from the original layers, the result is that suede feels so much softer than standard leather.
Advantages of Wearing Suede
Looking for a new pair of comfortable work shoes for women? You'll love wearing suede boots that are built to last for years to come. It doesn't matter if the weather outside is frightful or if you're just looking to keep your feet nice and warm for the cool weather months. Remember that boots were originally worn for practical purposes. It's a bonus that today's suede boots are both practical and fashionable.
Disadvantages of Wearing Suede
While there are plenty of reasons to love suede boots, there are also some challenges that come with wearing this kind of material. Your suede boots can easily collect dust and dirt. If you don't clean them often enough, your boots will look and stay dirty. Because suede isn't as thick as standard leather, which comes from the outer part of the animal hide, suede isn't as durable compared to leather. If you're going to wear suede boots, use them as a fashion-forward statement piece and not for any rigorous outdoor work or activities like hiking.
Dos and Don'ts for Cleaning Suede Boots
Your suede boots, while they are leather, are made from the softer and more delicate side of the animal hide interior. Suede boots require a little more TLC than your standard leather boots. Here are some key dos and don'ts to keep in mind when cleaning your suede boots.
Dos for Cleaning Suede Boots
Get a suede brush to keep your suede fabric fresh. If you have stains on your boots, you can use a specialized suede eraser. Want to make your suede boots' fabric more water-resistant? You can purchase special suede treatments to make the suede boots' fabric more water-resistant. Be sure to clean your boots before applying any treatments. If you have a wet stain on your boots, use talc powder to treat the wet stain. If it's a dry stain, dab it with a bit of white vinegar.
Don'ts for Cleaning Suede Boots
Unless you're getting washable shoes, be sure to read any cleaning instructions that come with your suede boots. In general, you shouldn't let your suede boots come into contact with water. Water damage can become irreparable.
Easy Steps for Cleaning Suede Boots
Once you have your hands on a pair of gorgeous suede boots, you'll love wearing them time and time again. Because they're made from leather, they're a durable and long-lasting material. The inner part of the animal hide that suede comes from offers a smoother appearance. However, keep in mind that suede is softer and thinner than leather. Here are some easy steps to clean your suede boots and keep them in tip-top shape.
Set the Scene
You're getting ready to clean your suede boots. Before that happens, you need to prepare your workspace. That's because cleaning suede boots can get rather messy. To avoid getting dirt, debris and whatever else comes off your suede boots all over your home, prepare a work desk. Lay down some old newspapers or a tablecloth on your table. Make sure you're cleaning dry suede boots. Don't attempt to clean suede that is wet or even damp. If you do try to clean suede boots that are a bit wet, you can accidentally ruin your suede boots by working the dirt deeper into the pores of your boots. Put your dry suede boots on the table and follow these next steps.
Put Crumpled Paper Inside Your Boots
Here's the first step to preparing to clean that a lot of people miss right before they go straight to cleaning their boots. You want to put crumpled-up newspaper or used computer paper inside your boots. Have some crumpled-up construction paper from your kid's latest art project? Even better. Put them inside the boots so that they will keep their natural shape while you're cleaning. It'll be easier to clean as well.
Use a Suede-Cleaning Brush
If you haven't already invested in a suede cleaning brush, now is the time to do so. You can use the suede brush on other suede items you have besides your boots. Don't have a specialty brush and need to clean your shoes ASAP? You can use an old toothbrush or any soft-bristled brush as well.
Tough Stains: Meet White Vinegar
Now that you know the brush cleaning trick you can do with your old toothbrush, you'd be surprised to learn that you can clean your suede boots with even more materials you already have at home. One of those must-have materials is white vinegar. Use the white vinegar on dry stains like dry food, wine or salt.
Remove Stubborn Stains with a Suede Eraser
For stains that are just too stubborn even after introducing them to white vinegar, that's where a special suede eraser comes in. Even with all that elbow grease you put into cleaning your suede boots, sometimes brushing and wiping the boots down is not enough. A suede eraser can help you remove grease, oil and water stains by gently rubbing it off your boots. Don't have a specialty suede eraser? Alternatively, you can also use a pencil eraser.
Use a Clean Bath Towel
Once your boots have been properly cleaned, grab a clean bath towel. Wipe down your boots so that the towel can remove any excess dust and debris. The key is to wipe in the direction of the grain of your boots. Don't rub the boots back and forth or use any vigorous hand motions. Be gentle with your boots.
Get Your Pair of Cute Ankle Boots
No matter the occasion, you're sure to find the perfect pair of suede boots and your other favorite kinds of shoes at Charleston Shoe Co. We offer a wide selection of gorgeous shoes in different colors, sizes and styles — from cute ankle boots for the fall to sandals for the summer. Browse our huge collection of shoes you'll love wearing today to take you from day to night, every day!
Image Credits
Chiociolla/Shutterstock.com
DStarky/Shutterstock.com