Back To Blog
A Helpful Guide: How to Make Heels More Comfortable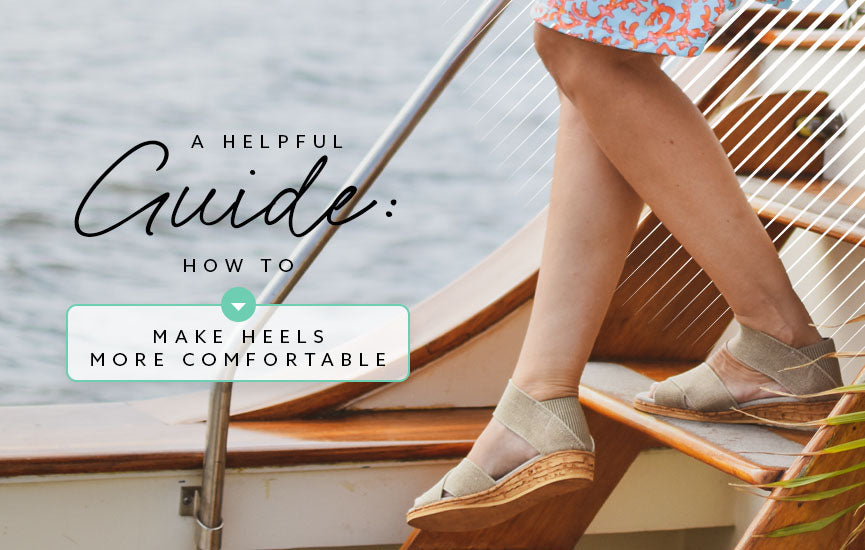 Wearing a pair of heels is like giving yourself an extra boost of confidence, energy and height all at the same time. While high heels might stand out to you as a shoe wearer for physical reasons, their abilities to make you taller and flatter your entire leg shape are not limited to visual appeal. In fact, many women choose to wear heels because of how it makes them feel. If you've ever tried on a killer pair of heels for the first time and experienced an instant lift in both mood and mindset, you know just how much they can benefit you in unseen ways as well. 
While heels have long been lauded for their fabulousness when worn at the office, on the go and for any upscale event, they're not always the most comfortable shoes. However, you should know that wearing a great pair of pumps, summer wedge sandals or strappy heels does not mean you have to endure the usual pain and discomfort that often comes as a result. In fact, there are many ways to beat blisters, soreness and other high heel blunders. Here is the ultimate guide for making your heels more comfortable! 
Comfort from Cobblestones to Cocktails
Heels can be uncomfortable in a few different ways. From insole structure and support level to your unique needs and foot shape, there's seemingly no end to the list of factors that might cause discomfort while wearing a cute pair of heels. At Charleston Shoe Co., we love a pair of shoes that doesn't involve compromise. You deserve shoes that look fantastic, make you feel beautiful and will keep your feet feeling great even when you're on your feet all day or night. 
Our collection of comfortable heels for women checks all the boxes for comfort, style and versatility. Each style comes equipped with design elements that are both fashionable and functional, making them the perfect choice for casual looks, office ensembles, dressy outfits or even packed in your suitcase for your next adventure. Charleston Shoe Co. heels are simply the perfect option for the modern woman. Having said that, it's always a good idea to keep yourself informed when it comes to shoe comfort. Below are our tried and true tips for maximizing the comfort factor on any type of heel!
Shop Our Comfortable Heels for Women
How to Make Different Types of Heels More Comfortable
Wedges: It doesn't get much better than a comfortable shoe with a sturdy wedge heel. Often considered the most comfortable of all heel types, wedges definitely deserve the praise they receive. The shape of a wedge heel is made up of one single part and is connected to the entire sole of the shoe, making it feel more secure and supportive. Wedges tend to eliminate wobbliness for those who don't wear heels often because their shape offers optimum structure and stability. 
Even though they're super versatile and generally chosen for their comfort level, you can make them even more comfortable by doing a little work behind the scenes. Grab your wedges and a pair of socks, put them on and wear them around the house for a few hours. This way, you can feel out the material of the straps and stretch it to the unique shape of your foot before you wear the shoes out of the house! 
Shopping Tip: When shopping for wedges, pay special attention to the straps and bands that cover the foot. These tend to be the most uncomfortable elements of wedge heels, so it's important to make sure you're not setting yourself up for unnecessary pain or discomfort when you wear them. Avoid over-structured ankle straps and super thin toe straps as these tend to pull and pinch the foot and toes, causing pain and blisters. Instead, look for a pair of comfy wedges with a semi-stretchy elastic upper portion that offers support and a little room for movement!
Heeled Sandals: From day trips and brunch dates to weddings, parties and everything in between, a great pair of heeled sandals is a must-have for your spring and summer wardrobe. They're perfect for showing off your pedicure on warmer days and serve as an elevated alternative to flat sandals. This style includes most open toe shoes that feature a heel but do not fit into the wedge or stiletto category. Common features include criss cross straps, summer-inspired colors and chunky block heels. 
Since these heels are so versatile, it's important to make sure they're extra comfy. You can do this by wearing supportive anti-friction inserts in the heel, sole and toe areas where your feet normally ache under heel pressure. Feel free to try a few options and see what's most comfortable for you!
Shopping Tip: Sandal shoe styles with heels often feature thinner straps and bands that contribute to the overall summer-inspired sandal look. As a result, your feet might receive less support and stability from the upper portion of the shoe. Combat this by choosing a high heel sandal style that features a platform, which will help to evenly divide your weight between the heel and sole areas of the shoe and keep your feet nice and comfy. 
Stacked Wood Heels: If you're searching for a classic and comfortable high heel style, look no further than the traditional stacked heel. This style is sure to give you all the popular benefits of wearing heels including a noticeable height boost and an instant sleek, long-legged look. In addition to the benefits of a stacked heel, you'll also love the versatility it offers. A stable wood (or otherwise sturdy) heel material allows for effortless wear, no matter how many steps you log on any certain day. Stacked wood heels top the list of comfortable work shoes for women, best heels for cocktail attire and more. 
Though stacked heels will give you more stability and weight distribution power than a skinny stiletto heel, there are still ways to maximize their support and comfort level. If your stacked heels have self-tie criss cross strings as straps, make sure to tie them in a snug fashion around the middle of the ankle twice if possible. You want to get the most out of your ankle support straps in order to prevent any unnecessary heel pain due to a lack of ankle support. If your heels feature a buckle, elastic or clasp ankle strap, make sure the elastic feels tight and the clasp is fastened securely, but not too tight. 
Shopping Tip: Since this type of heel is great for so many different occasions, consider keeping multiple colors in your closet. A classic pair of black stacked heels is a must for any woman who loves fashion and means business. On the other hand, it's a great idea to have another pair in a lighter neutral tone (or bright white for summer!) to dress up your jeans or shorts. 
Heeled Boots and Booties: Regardless of your personal style and favorite pieces of clothing, chances are your closet houses at least one or two different boot styles. From sleek and chic over the knee styles to chunky menswear-inspired styles that make a bold statement, there is certainly a pair of boots for every single person. If tall boots aren't your thing, perhaps a pair of stylish ankle boots would pair best with your outfits. Don't forget that your favorite rain boots count as part of your shoe collection, too! 
One thing that rain boots, tall boots and ankle boots have in common is that they should be comfortable and fun to wear. If you throw in a heel with your short or tall boot styles, the fun level tends to rise at the cost of comfort. To avoid sacrificing comfort on a cute pair of heeled boots or booties, make sure to stay mindful of how you walk while wearing them. Boots feel different than regular heels and sometimes the extra material can throw you off. Stand tall, engage your core and walk smoothly from heel to toe in your high heel boots to distribute your weight, avoid too much pressure in one area and feel oh so comfortable! 
Shopping Tip: Buying heeled boots and booties is usually an investment, and a smart one at that. At Charleston Shoe Co., we strive to make our shoes available at a great price point without sacrificing one bit of quality. Consider our boots an investment in yourself and the comfort of your body without making a serious financial investment. Trust us — you'll love our stylish colors, unique finishes and padded insoles so much you'll never want to take them off! 
Maximizing Comfort with Bunions
Aside from the regular woes your heels can inflict upon your feet, there's a chance you might be dealing with something more. If you've had bunions for a long time, you know it's crucial to be discerning when it comes to your shoe selection. This process becomes even more detailed when it comes to heels. Though bunions develop as a result of years of foot pressure, you might just be beginning to notice them or the painful symptoms they bring. Either way, you don't have to expect pain as a result of wearing shoes! Rather, it's all about finding the best shoes for women with bunions that cater to your exact needs. 
Explore Shoes for Women with Bunions
If you have bunions, there are a few precautionary measures you can take to prevent pain, redness and soreness before you even get dressed. Make sure to stretch your feet and move them around when you're not wearing shoes so your bunions and toes are not constantly stuck in the same position. Pay special attention to your toes and toenails, too! A not-so-great side effect of bunions can be pressed or ingrown toenails, especially in the big toe and second toe because these toes generally take on the most pressure with bunions. Keeping your toenails clipped and clean will prevent unnecessary pain while giving you a great excuse to have regular pedicures at home or the nail salon! 
Bunions are simply a part of life for many women, but at Charleston Shoe Co., we believe you shouldn't have to give in to bunion pain just to wear a cute pair of shoes. Our selection of bunion-friendly heels includes feminine espadrilles, chic block heels, cute cork wedges and even cocktail heels with extra heel height so you never have to miss out on wearing fashionable heels or have to endure a night of painful stepping, standing or dancing in uncomfortable heels ever again. 
What makes our bunion-friendly heels so comfortable? The answer involves a few of our signature Charleston Shoe Co. design elements, including our beloved elastic upper material that provides support and security while moving and expanding to fit your exact foot shape. The  thick elastic material is great for concealing bunions and creating a flattering look, too! In addition to our superhero elastic material, we have to give some love to the classic padded insole as well. While many heels include a stiff insole to structure the heel (which leads to bunion pain and soreness afterwards), our heel designs provide stability from the ground up, leaving more room for comfortable, padded layers at the insole. 
Even if you don't deal with bunions on a daily basis, you deserve quality heels that are both fashionable and functional. Give them a try and you'll see why we love them for any occasion! 
Image Credits
Olga Hmelevskaya/Shutterstock.com
Chinnapong/Shutterstock.com
Katerin_vin/Shutterstock.com