Back To Blog
How to Stop Feet from Sweating in Sandals — 4 Helpful Tips for Summer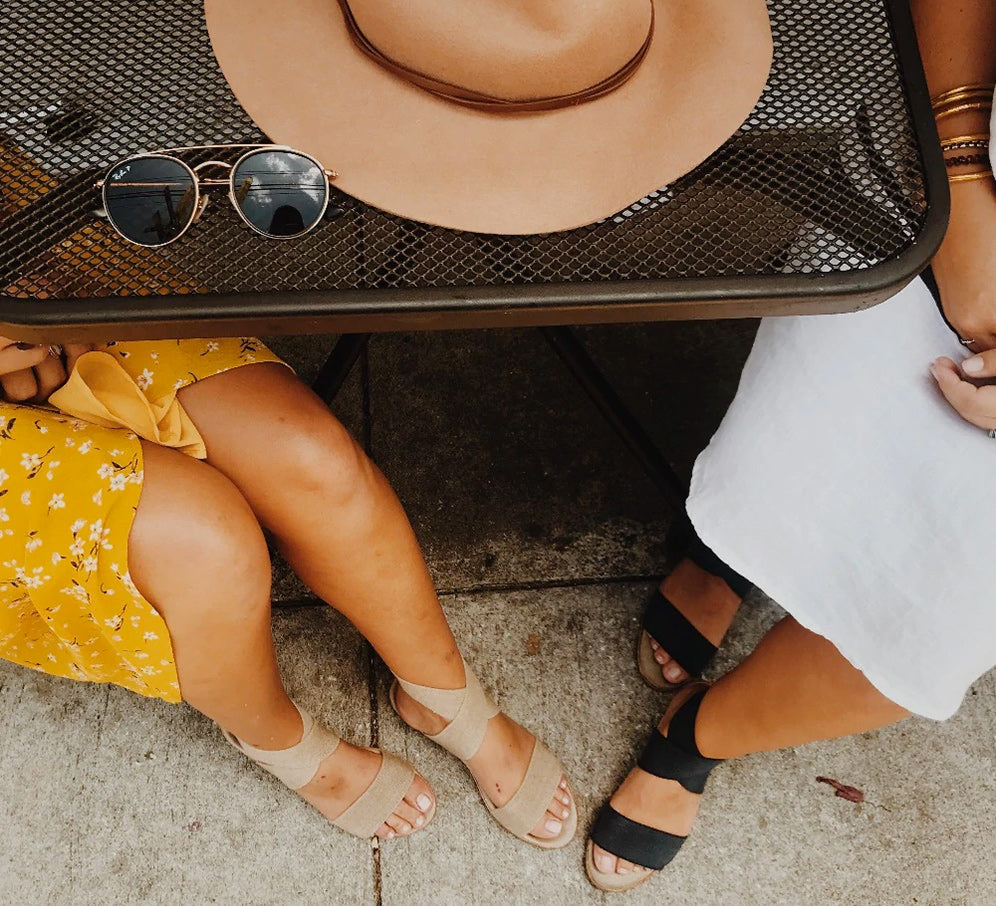 Summertime is perfect for showing off your pedicure in a pair of cute sandals for women. It simply feels right to don a pair of stylish strappy sandals or low coverage flats when the weather is warm, but that doesn't always keep your feet from sweating it out in the summer heat. Aside from just being annoying, this summer footwear blunder can cause irritation, make your shoes smell bad and contribute to a general uncomfortableness. Learn how to prevent your feet from sweating in sandals and keep them feeling cool and comfy all summer long with these tips! 
Choose Breathable Materials:

Some materials like rubber, plastic and patent leather are just a recipe for unavoidable foot sweat. The problem with these common materials is that when they make up the sole or upper portions of a pair of sandals, they trap heat in any portion of the foot they cover. To avoid sweaty toes, heels and soles, go for

a pair of comfortable sandals

made with breathable fabrics like classic cotton, sweat wicking linen and stretchy elastic. 
Shop Bestselling Comfortable Sandals
Use Deodorant:

Yep, you read that right. Antiperspirant can be used on more than just your underarms to keep summer sweating at bay. Before you put on your sandals, apply a small amount of your deodorant to the areas of your feet that normally sweat. If you're not sure where to apply, start with the bottoms of your feet, right below your ankles and in between your toes. 
Get the Perfect Fit:

Choosing the right sandal size is important for a few reasons. Not only can it help make your feet more comfortable during wear and prevent unnecessary friction, but a good fit can also help prevent your feet from sweating! If your sandals are too small, there's a good chance your toe area will be squished and sweating will soon follow. Though you want to make sure your sandals have a snug fit for comfort and support, make sure your favorite

summer wedge sandals

, espadrilles and thong sandals have just the right amount of wiggle room. 
Discover Our Cute Sandals for Women
Keep Your Feet Clean:

Washing your feet and keeping them dry and free of debris is a super easy way to prevent your feet from getting sweaty. Whether you run your feet under cold water in the tub midday or give them a quick wipe down on the go, you can make this a part of your daily routine regardless of your schedule. Using water or a wet cloth to give your feet a pick me up not only refreshes them, but it also cools them down and lowers the risk of sweating as a result of temperature regulation. 
Don't let foot sweat keep you from wearing your favorite sandals this summer! Try these tips and see which method works best for you. Charleston Shoe Co. is committed to comfort — and that's no different when it comes to our sandals. From ankle strap espadrilles to flip flop styles and more, we have the perfect styles to pair with your summer outfits and keep your feet feeling comfortable and dry all day long.