Back To Blog
A Helpful Guide: How to Wash Shoes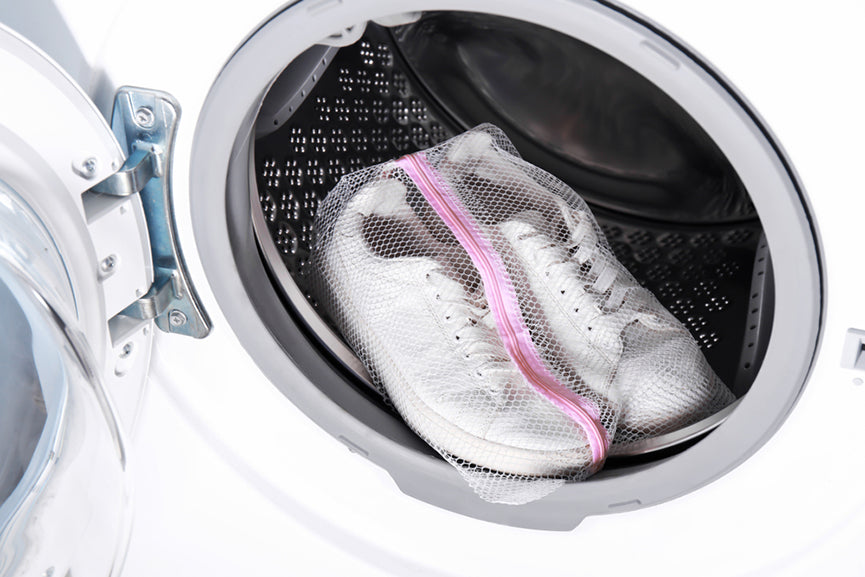 Shoes take on a lot, protecting our feet as we walk around all day. And sometimes, they can begin to look a little worse for wear, built up with sweat, sand, dirt and other grime. So from time to time, it's important to clean your shoes to make them look good. 
But how can you get the grime from those cute, comfortable sandals or the comfy wedges you wear around town to do all your errands? Glad you asked! Here is exactly how to wash your shoes. Because life doesn't stop when your favorite shoes get dirty. 
First, Grab Your Tools
Washing your shoes is easy! Before we break down the steps, gather the following tools:
Toothbrush

Baking Soda

Mesh Shoe Bag or Pillowcase

Laundry Detergent

Dishwashing Liquid

A Few Dry Towels/Rags
Now, onto our step-by-step guide on how to wash your shoes.
How to Wash Your Shoes – Step-by-Step!
Step #1: Prepare Your Shoes for the Wash
Before you toss your shoes in the wash, willy-nilly, give them a good initial brushing off. A toothpick also helps get into all the nooks and crannies. This is important if you have caked on dirt or mud. Have a few scuff marks? Apply a shoe cleaner with a rag, wiping it off again with a damp rag. Also, be sure to remove any laces, insoles or other shoe accessories from the shoes.
Step #2: Place Shoes in the Washing Machine
Now, onto the washing! Place your shoes in a mesh garment bag (an old pillowcase works well, too) and close/zipper it shut. While you can technically throw your shoes straight in the wash, a bag will keep the pair of shoes contained and prevent them from banging around too much. Along with the mesh bag, add a few old towels or linens (nothing with fresh dye that might leak onto the shoes) into the wash as well. 
Step #3: Start the Cleaning Cycle
Shoes can go in the washing machine, but you should choose your settings carefully:
Delicate cycle

Cold water

No-spin setting  
Liquid detergent is always best for washing shoes. Powder detergent sometimes doesn't dissolve properly and can get stuck in a shoe's materials.  
Step #4: Clean Your Shoelaces, Insoles and Other Accessories
While your shoes are in the washing machine, focus on the shoelaces, insoles or other accessories that need cleaning. 
Shoe laces can slip inside the mesh bag, too, or you can scrub them with a toothbrush and laundry detergent in the sink. The same goes with insoles, unless they explicitly state they are machine washable. Instead of placing them in the washing machine, which will leave them so sogging wet they could take a month to dry out (exaggerating, but you get the idea), you're better off hand-wiping them with a soapy damp rag and deodorizing them afterwards with a sprinkling of moisture- and odor-absorbing baking soda. Allow the baking soda dusting to rest overnight, brush it away and then slip them back into your shoes when they are finally cleaned, too!  
Step #5: Remove Your Shoes and Allow Time to Air Dry
Once your washing machine cycle is complete, remove the shoes and give them time to air dry. The same goes with laces and insoles. To speed up the process and retain each shoe's shape, dab them with a dry rag to absorb any moisture that you can. You can also place them outside on a sunny porch to kick the drying process up a notch. 
Air drying your shoes is ideal. However, if you're in a rush to get your favorite shoes back, you can place them on a fitted dryer rack and set your dryer to delicate or air fluff. Just check in on your shoes from time to time to ensure all is well.
That's it! All that's left is stringing the laces back and adding in the insoles. While you're at it, try a new lace pattern like a lattice lace method or heel-locking lace pattern to give your shoes some extra style. 
Washable Shoes by the Charleston Shoe Co.
Charleston Shoe Co. has a large collection of washable shoes for women designed with durable materials that can take on a cycle when they begin to look a bit drab. Canvas, cotton, nylon and polyester fabrics and materials can all take on a tumble in the washing machine and clean up nicely with a little liquid detergent. Of course, many of our leather and suede shoes are hand washable, too, making them long-lasting and easy to care for!