Back To Blog
How to Wear Ankle Boots: Tips and Outfit Inspiration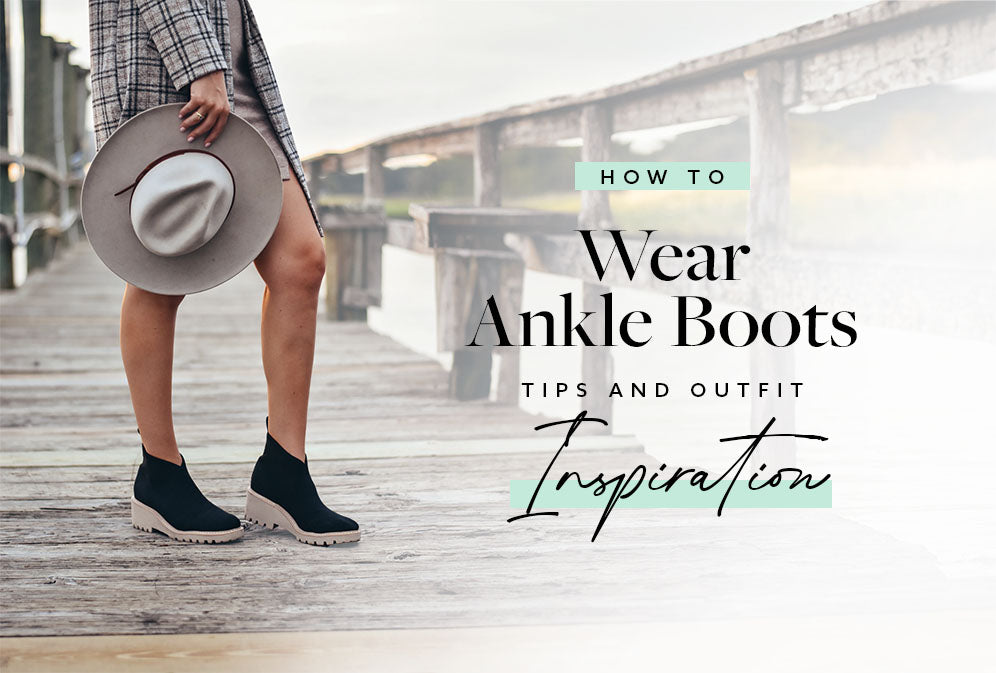 Every woman needs a pair of fashionable ankle boots in her closet. They're a perfect versatile pair of shoes that can transform any simple outfit into a sudden style statement. From the fashionista looking to upgrade her booties for women or simply who appreciates comfortable footwear, add a little flair to your everyday wardrobe with ankle boots. Between all the different styles out there, you might not be sure how to style them. Don't worry – we've put together this handy guide to help you make the magic happen. Let's take a look at how to wear ankle boots like a pro.
Get Comfortable Work Shoes for Women
What Are Ankle Boots?
Ankle boots are short, snug-fitting boots that graze just above the ankle. They're the perfect addition to any wardrobe, and every fashionista needs a pair of these versatile footwear chameleons. They straddle the line between fashion and functionality with grace. Ankle booties are available in so many different styles, including trendy suede and classic leather. You can dress up your look with a heeled ankle boot or keep it casual with a flat ankle bootie. It doesn't matter the season. You can wear them with skinny jeans in the fall or with a pretty maxi dress in the spring. As a perennial wardrobe essential, you can step out in style all year long with ankle boots. These shoes are both trendy and timeless. They're popular closed-toe shoes that have been around for years and are here to stay.
Find Your Next Pair of Closed-Toe Shoes
When Did Ankle Boots First Become Popular?
Ankle boots have a rich history that goes back to the Victorian era. Their popularity skyrocketed during the 1800s when ankle boots were actually primarily worn by men for practical reasons like horseback riding. In the early 1900s, ankle boots started to become a unisex fashion statement. The 1960s and 1970s highlighted designers like Yves Saint Laurent and André Courrèges, who brought them to the forefront of women's fashion and made them iconic. They've been a runway favorite since the 1990s, when ankle boots took on a rebellious edge. Today, they remain a cherished style choice for all different kinds of fashionistas.
Are Ankle Boots Trendy?
Even though ankle boots have been around for centuries, they've been reinvented time and time again to stay trendy to this day. From edgier, bolder designs to those classic, chic styles, ankle boots offer something for everyone. There's no shortage of options whether you like an elegant leather ankle boot or a stunning suede creation. They're easy to style with anything in your wardrobe, including skirts, dresses, jeans and even shorts. They're a staple for any season. 
Are Ankle Boots Timeless?
One of the best parts of owning an ankle boot (or two, or three, or let's face it — at least seven for every day of the week!) is that they're the epitome of timeless style. Their enduring appeal lies in their versatility so, ultimately, any ankle boot you wear is a classic choice that can transcend ever-changing trends. In the world of fast fashion, what was in two weeks ago is out of style today. At Charleston Shoe, we have plenty of ankle boots that effortlessly complement any kind of outfit. You'll give off that timeless allure to prove that ankle boots are not only trendy but they're also a long-lasting fashion investment that will stand the test of time.
Can I Wear Ankle Boots If I Have Problem Feet?
Many women deal with foot issues and need a little extra support. The good news is that if you have problem feet, ankle boots are a fantastic choice to accommodate your specific needs. To pick the best ankle boots for you, look for boots designed with cushioned insoles and arch support. Many of our shoes are made with thoughtful details like adjustable straps to accommodate swelling. They're designed with flexible materials to prevent constriction. Your comfort and support are a priority, so ankle boots remain a comfortable and stylish choice for anyone — even those with foot issues. No matter if you have wide feet, narrow feet or bunions all over, ankle boots are comfortable enough for all foot types. If you've been searching for the perfect shoes for women with bunions, check out our selection of ankle booties at Charleston Shoe.
Shop Our Booties for Women
Different Ankle Boot Styles
Charleston Shoe has plenty of ankle boot styles to suit your unique personality and taste. If you're curious about what different kinds of ankle boots are out there and trending right now, we'll take a look at some different popular ankle boot styles.
Leather Boots

— Leather boots have a luxurious look and feel that will fit seamlessly into your everyday wardrobe. With the sleek sophistication of leather ankle boots, you'll exude an air of style and confidence. Not to mention, they're built to withstand the test of time. With proper TLC, your leather boots will last for years to come.

Elastic Boots

— For comfort and versatility, you'll love elastic ankle boots. It's the perfect blend of coziness and style. Because they're so versatile, they can transition from day to night and casual to dressy occasions in a snap. Elastic ankle boots pair well with jewel tones and autumn hues during the fall season, but don't be afraid to rock this boot all year long.

Rain Boots

— They say when it rains, it pours, so it's best for you to get your hands on a pair of ankle-length rain boots! If you want the protection of classic rain boots without the bulk of more traditional knee-high rain boots, get ankle-length rain boots. They'll keep your feet dry without compromising on style. Try out different patterns and colors to add a fun twist to any gloomy day.

Lug Sole Boots

— Lug sole boots are known for their thick, heavily textured rubber soles. They're called "lug soles" because those soles resemble lugs on a tractor tire. They provide excellent traction, so wearing ankle-length lug sole boots during an outdoor adventure or during your morning commute is ideal for any fashionista on the move.
While ankle boots come in a variety of fun and fashionable styles, sometimes you crave something a little simpler. Charleston Shoe has plenty of cute flats if you prefer something easy to slip in and out of when you're headed out the door.
Outfit Ideas: Pairing Ankle Boots with Jeans
Combining your ankle boots with a pair of your favorite denim goes together like peanut butter and jelly. They're an everyday look that effortlessly merges comfort and style. From your classic chic weekend vibe to getting office-ready, let's take a look at different outfit ideas for this classic pairing.
Classic Chic

— To put together a classic and chic ankle boot and jean look, wear dark skinny jeans and a white button-down shirt. Accessorize with a black leather belt, statement necklace and simple stud earrings. This combo goes great with black leather ankle boots with a pointed toe.

Bohemian Vibes

— For a more bohemian look, pair a flowy, patterned bohemian blouse with distressed boyfriend jeans and a wide-brimmed hat. Layered bracelets and suede ankle boots add a boho touch.

Office-Ready

— Get ready for this office-friendly look by wearing tailored, straight-leg jeans with a crisp Oxford shirt. Dress it up with block-heeled ankle boots in a neutral tone, and finish off the look with a structured handbag and delicate gold necklace.
Outfit Ideas: Pairing Ankle Boots with Dresses and Skirts
While jeans and ankle boots may seem like an obvious choice, we can't forget about the fun of pairing your ankle boots with dresses and skirts. From a bit of country charm to preppy perfection, you can make ankle boots a versatile choice for both dressier and more casual occasions. Let's look at some different ways to dress up (or down) your ankle boots.
Country Charm

— Wear cowboy or Western-inspired ankle boots with a denim skirt and plaid or chambray shirt. Finish off the look with a wide-brimmed hat and belt with a large buckle.

Feminine Flair

— Get a bit of feminine flair by wearing block-heeled ankle boots with an A-line dress. Add on a waist belt to accentuate your figure, and then layer with a light cardigan jacket.

Preppy Perfection

— For a bit of a preppier look, wear a pleated plaid skirt with a crisp white shirt tucked in. Pair the skirt with Chelsea ankle boots and complete the look with a cardigan and pearl necklace.
Transitioning Seasons with Ankle Boots
Ankle boots are the perfect choice for year-round footwear. If you're not sure what shoe to wear between the seasons, you can't go wrong with an ankle boot. As the warm summer turns into a cool fall and a snowy winter melts into a breezy spring, you'll find ankle boots are your go-to footwear. Cozy ankle boots are perfect with thick tights and wool skirts during the cool weather months. When spring comes around, pair your ankle boots with a breezy floral dress. Because they're so versatile, they're your must-have transitional piece to keep you stylishly comfortable throughout the year.
Ankle Boots During the Fall

— Cool, crisp fall days beckon for ankle boots. Fashion and function combine with classic leather ankle boots that pair with skinny jeans and cozy sweaters. Suede ankle boots can add a touch of warmth and texture. Layer up with trench coats and chunky knits. As the seasons change, you'll find that ankle boots add a touch of sophistication to help you strut through the fall with flair.

Ankle Boots During the Winter

— Winter is the time when ankle boots really take center stage. Suede ankle boots and classic leather pieces are lined with cozy material to provide extra insulation while keeping your fashion game strong. Pair them with a faux fur coat and dark denim to combat the chill and create a trendy, layered look. Chunky lug sole ankle boots provide stability to ensure you step out confidently even during icy conditions.
Ankle Boots During the Spring

— Breathe new life into your wardrobe by seamlessly

transitioning from winter to spring

with ankle boots. To evoke the freshness of the season, wear leather or suede ankle boots in lighter shades like pastel hues. Pair your ankle boots with flowy skirts and floral dresses for a feminine, playful touch. Try peep-toe ankle boots to show a hint of skin as you embrace the milder weather. They're ideal shoes to wear as you transition from the cool vibes of winter into the warm, sunny spring season.

Ankle Boots During the Summer

— You may not think of ankle boots and summer, but the truth is that ankle boots are one of those versatile footwear choices that can still shine in the summer heat. To wear ankle boots during the summer, choose booties made from lighter, breathable materials like elastic that will keep your feet cool. They'll add a unique edge to your summer outfits. Style your summer ankle boots with denim shorts or a sundress. During those cool summer evenings, ankle boots act as a stylish alternative to more casual flip-flops. They're a trendy and unexpected addition to a summer look that can ensure you'll stand out in style.
We've explored the ins and outs of how to style ankle boots, including our most comfortable work shoes for women. Whether you're going from the cobblestone streets outside your office to cocktail hour with your girlfriends, you'll be able to put together the right ensemble to turn heads and leave a lasting impression wherever you go. Ankle boots are a fashion statement waiting to be made. Dare to combine them with flirty dresses and skirts or more laid-back jeans and t-shirts. Your style is your canvas!
Image Credits
abworks/Shutterstock.com
KidSpace/Shutterstock.com