Back To Blog
Your Ultimate Guide to Measuring Shoe Size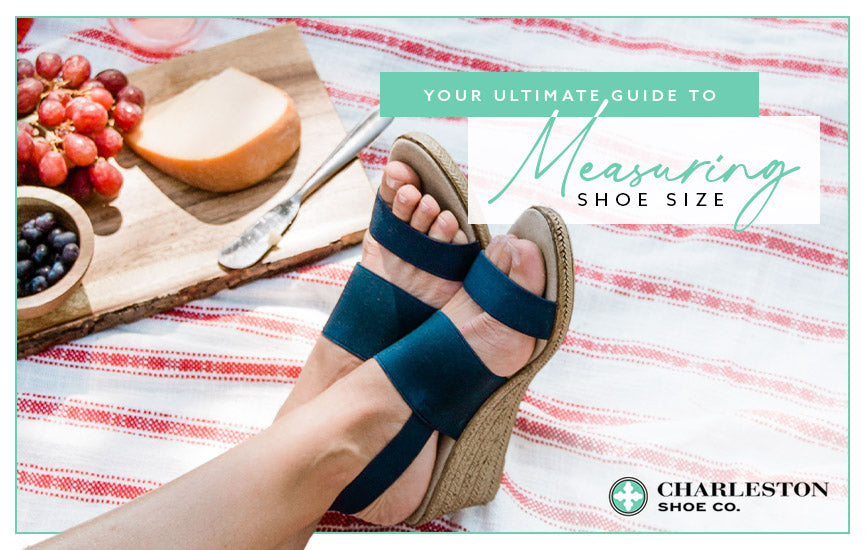 When it comes to your clothing, you probably have a set of sizes that are normal for you. As you shop from brand to brand, however, you might notice that your sizing fluctuates, meaning you possibly need to size down or up depending on the designer or manufacturer of the garment. This is also true when it comes to your shoes! Though in a perfect world a shoe size 7 would mean the exact same thing regardless of brand or style, this is not always the case. 
Navigating the world of shoe sizing can be tricky at times, but there are a few useful tips and tricks you can utilize to get a great fit every time, especially when you're shopping online or can't physically try on a stylish pair of shoes before you buy them. Here's an all-inclusive guide to measuring shoe size so you can get the most out of your shoes and feel great while wearing them! 
An Overview of Shoe Sizing
Before you start searching for potential new shoes, it's important to know your technical shoe size by measuring it. It's also important to learn more about the width of your foot and which styles work best for your unique feet. Chances are, you've dealt with a less than perfect shoe size before. It's incredibly common given the variation in sizing across different brands and shoe styles. A fit that's too small can cause foot cramps, blisters, irritation and other undesirable effects. On the other hand, a fit that's too large might leave your feet susceptible to uneven weight distribution, foot soreness or worse. 
Thankfully, there are steps you can take to ensure you're getting a good fit, and that all starts with knowing how to measure your own shoe size. Your shoe size is a measurement based on the length of your foot from the tips of your toes to the back of your heel. You can measure your personal shoe size with just a few household items. Grab a couple of pieces of paper that exceed the length of your foot, as well as a ruler or tape measure and something to write with. 
Shop Comfortable Sandals for Women
Position yourself with your back, legs and heels against a flat wall and stand up straight. To begin the measuring process, place a piece of paper beneath each of your feet, making sure to slide the paper back to meet the wall. Your heels should be in line with the edge of the paper against the wall to ensure an accurate measurement. With your heels against the wall and the paper securely placed, take your pen or pencil and trace the outline of your foot from your toes all the way around to your heels. 
Once your foot outlines have been sketched, you can move away from the wall and measure them. Using a ruler or tape measure, carefully measure the length from the back of your heel (this should be the edge of the paper) to the longest point of your toes. Use the same measuring technique on the width of your foot from side to side around the peak of your arch. 
Now that the measuring is done, it's time to interpret those numbers and translate them into an actual shoe size. Use a shoe size chart to determine your shoe size based on the length of your toe to heel measurement. Many shoe size charts also feature a width chart so you can use your shorter side-to-side arch measurement to determine if your foot is narrow, medium or wide. Even though specific narrow and wide sizes aren't available from every retailer, it can help you understand your size better and steer you towards specific shoe styles that might work better for you. 
U.S. adult women's shoe sizing typically ranges from size 5 to size 12, with half sizes in between each full size. You might notice that some of your footwear has a European size listed on the label with a number between 35 and 43. A shoe sizing chart can help you determine your European shoe size if you know your U.S. shoe size and vice versa. 
It's so important to know your starting shoe size because it can help you narrow down your options. Knowing more about your shoe size and the width of your arch can provide insight into which shoe styles will provide you with the most comfort and be the least likely to cause blisters, irritation or pain. If your feet are still growing, be sure to measure them every few months to keep an accurate recording of your size. 
Sizing Different Shoe Styles
Though it's extremely important to know your shoe size before you shop, you should know that different shoe styles can affect which size might be the best for you. That means it's normal to have a slight range in shoe sizes in your closet. For example, your go-to pair of comfortable sandals for women might have a bit more leeway or wiggle room in terms of sizing because it's a shoe style with less coverage, whereas your structured boots or sneakers might require your typical shoe size or even a half size larger. Here's a look at specific shoe styles and how to decide whether to stick with your normal size, move up or take a size smaller:
Boots
When it comes to tall boots and ankle boots, there's a chance you might need a half or full size larger than the size you measured with your paper, pen and ruler — and there are a few reasons for this. While you might see them as a pair of cute boots you want to buy, there are a few things to think about before you simply buy them in your regular size. Boots are a full-coverage shoe style that features a solid sole and encompasses your entire foot as well as your ankle. For taller boots, your calves also come into play. For these reasons, you might consider trying a half size larger than you normally wear, especially if the boots are stiff or made with a thick material! 
Sandals
There's nothing better than wearing your favorite comfy sandals. They're stylish, breathable and perfect for warm weather. Sandals look great with so many different outfits, but what's most important is how they feel on your feet. You never want your sandals to feel too tight or like they're constricting your range of foot movement, as these symptoms are a sign of sandals that are too small. On the other hand, your sandals shouldn't feel like they're slipping across your feet or moving a lot when you walk. These are signs that a pair of sandals is too large for your foot. 
To get a great fit for your next pair of women's sandals, consider starting with your normal size. Sandals typically allow for more wiggle room when it comes to different unique foot shapes, so your normal size is a great place to start. If you don't end up with a good fit this way, assess what your issues are and size up or down accordingly. 
Sneakers
It's crucial to find the correct sizing for athletic shoes and even fashion sneakers because these styles are meant to provide support and comfort for your feet. When it comes to athletic or workout sneaker styles, you want a pair that provides support and security for your feet without reducing circulation or squishing your toes together in an uncomfortable way. Even your casual fashion sneakers should make your feet feel good when you're wearing them!
Much like ankle boots, sneakers cover the majority of the foot. In turn, you should size them like you size your boots. Consider a half size up or your normal size based on the flexibility and material of the upper. Keep in mind that your heels should not lift out of the back of your sneakers when you walk or pinch the area. 
Classic Flats
At Charleston Shoe Company, we sure do love a versatile and comfortable pair of shoes. That's why we have more than a few options when it comes to cute flats for women. They're a year-round closet staple and can take you from your workday to date night with incredible ease. If you're like us and wear your classic flat shoes all the time, then it's vital to get the right size so you can wear them often and feel comfortable while they're on your feet. 
Before you hit the "add to cart" button, consider a few design aspects of your potential new flat shoes. Are they considered a pair of closed-toe shoes or do they feature an open-toe aspect? For closed-toe styles, consider your normal size or a half size larger than normal. For open-toe styles, go for your normal size. Flat shoes can feature an array of different structures and materials, so make sure to do your research before you buy. Structured flats with a less moveable upper might require you to size up, while elastic or more movement-friendly uppers are more likely to expand to your exact foot size, meaning your normal size is a great place to start. 
Bunions and Shoe Sizing
If you have bunions, then you know how much of a hassle it can be to find shoes that fit well, flatter your feet and feel comfortable all at the same time. The issue is finding a shoe style that is wide enough to accommodate the bunion shape next to your big toe without getting an oversized fit in the rest of the shoe. While some opt for a good fit in the heel and arch areas at the cost of comfort around the bunion, know that this doesn't have to be the case! Charleston Shoe Company offers seriously comfortable shoes for women with bunions, and they're sure to become the most worn shoe style in your closet. 
All of the styles in our bunion-friendly shoe collection have a few things in common. They're made to fit your exact foot shape (bunions included), create a flattering shape on your feet and give you that comfortable aaahhh feeling each time you wear them. The best part about this collection of comfortable, bunion-friendly shoes is that there's no guesswork on sizing. You can count on us to let you know if any particular style runs large or small so you can get to enjoying your stylish, bunion-friendly shoes with no hassle or stress. 
Discover Comfortable Shoes for Women with Bunions
A Better Fit
At Charleston Shoe Company, we're committed to providing you with a great fit. We know that you want to look good and feel good at the same time, which is why we offer stylish shoes with an unmatched comfort level designed to fit your exact foot shape. Women, men and kids alike agree that Charleston Shoe Company shoe styles provide an accurate fit and a great look. Find your favorite styles online today and experience the best fit for your shoe size!