Back To Blog
How to Find the Most Comfortable Walking Sandals for Women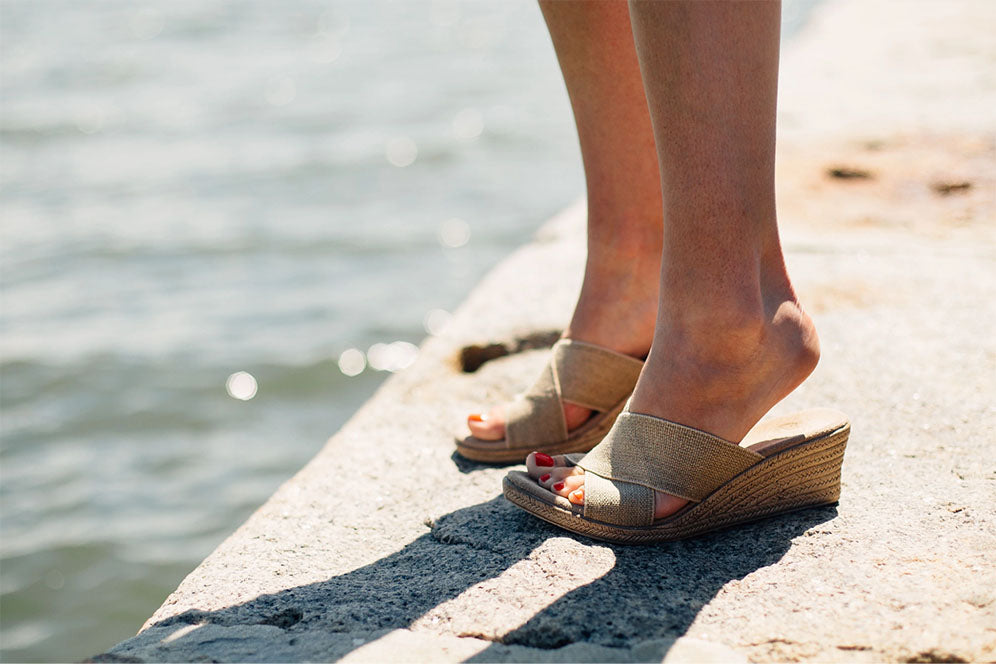 Walking is one of those exercises where all you need is a great pair of shoes. However, what kind of shoes should you wear when you're walking? Is it possible to wear other shoes besides sneakers or hiking boots? Yes! There are comfortable walking sandals for women, and here are our tips on how to style comfy walking sandals and how to look for the right sandals for your feet.
1. What Are the Most Comfortable Women's Walking Sandals? — There are a couple of things to keep in mind when you're picking out comfortable women's walking sandals. You'll want shoes that offer you both stability and flexibility so they'll be balanced, and you'll be able to wiggle your toes. The sandals should be comfortable with padding for extra support. Get inspired by our collection of best selling sandals to find comfortable women's walking sandals.
2. What Else Should You Wear When Walking? — Plan on making a day out of walking? Here are some other things to consider wearing during your walk for more comfort. Consider layered clothing like a breathable wicking shirt or a windproof jacket. A hat is a great option to keep the sun out of your eyes. Make sure you stay hydrated with water, wear plenty of sunscreen and grab your favorite pair of sunnies before you head out the door.
3. Tips for Picking Comfy Walking Shoes — According to AARP, you may be tempted to get an athletic shoe such as tennis shoes or basketball shoes because they seem like a sporty choice and would offer you the support you need — at least in theory — for walking. However, you should actually get walking shoes, running shoes or sandals with arch support specifically. That's because court shoes are meant for side-to-side movement. So unless you're going to be playing a game of tennis or hitting some hoops, avoid getting athletic shoes just for walking.
4. Choosing the Best Travel Shoes for Women — The best shoe for travel is one that's comfortable, lightweight and durable. If you plan on taking a trip where you'll be walking a lot or just want to make sure you have shoes that are comfortable to wear for your travels, take a look at our women's travel shoes.
Shop Women's Travel Shoes
5. How to Style the Cannon — There's a reason why the Cannon wedge is our best selling sandal. It's a versatile 2" comfortable wedge that can be worn all year long. It's bunion-friendly and perfect for anyone who wants more support and style when they're walking around. 
To style the Cannon, you can wear it with a flowy maxi dress or a pretty sundress during the warmer weather months. Layer up with a cardigan and jeans or a pullover and skirt when it's cooler. Headed to the pool this summer? Put on neutral-toned Cannons with your little black swimsuit, or make the Cannon your statement piece by getting it in a bold color or fun pattern.
6. How to Style Women's Wedges — There are plenty of ways to style comfortable wedge sandals. To wear wedges with pants, wear classic cork wedges or espadrilles with cropped pants and a button-down. High-waisted trousers and a pretty blouse also look great with closed-toe wedges. To wear wedges with a skirt or dress, try a midi skirt with an espadrille wedge or a mini skirt with sling-back wedges.
Buy Comfortable Wedge Sandals
If you're not sure whether any of our shoes will be a great fit, come visit us in-store and take a walk in any of our shoes. You can also simply order them online and we're confident you'll find the perfect shoe for you. That's why Charleston Shoe has a wide selection of sizes, colors and styles of comfortable sandals you'll love. Whether you're taking your weekly Sunday morning walk or on your feet all day running errands, our comfy sandals will be shoes you'll love wearing for both comfort and style.