Back To Blog
6 of the Most Comfortable Sandals to Wear with Dresses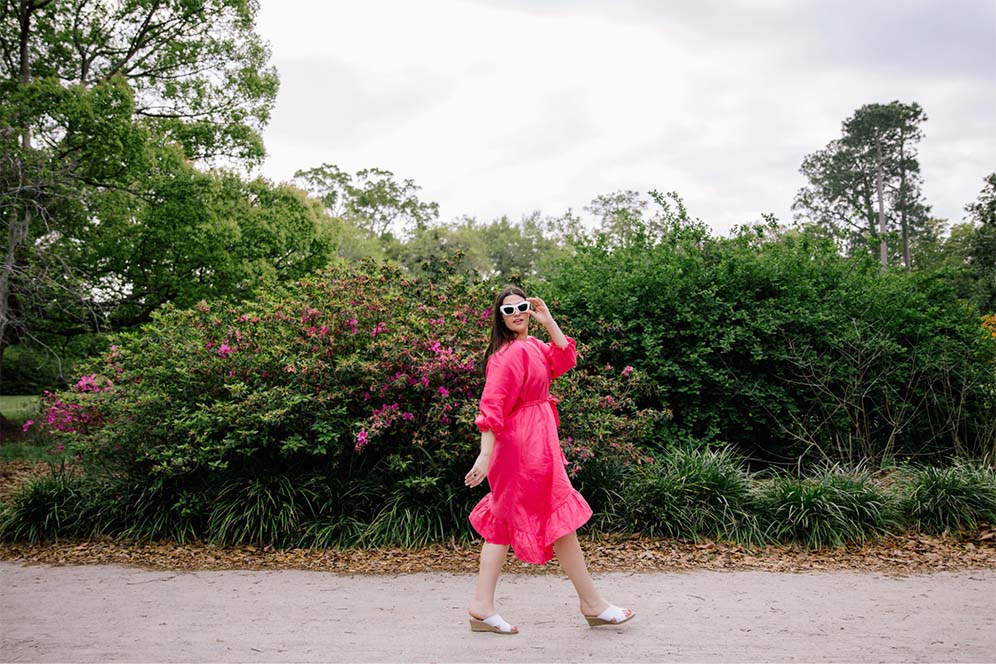 From strolling along the beach to going to Sunday brunch with your girlfriends, there are plenty of ways to wear dresses with sandals this season. Our sandals are designed with chic trends and practical support in mind so you get the best of both worlds. Whether you're looking to strut your stuff this summer or just looking for cute sandals to wear when you're on vacation, we've put together a list of six of the most comfortable sandals to wear with dresses.
Find Travel Shoes for Women for Your Next Vacation
1. The Backless Cannon — The best-selling Backless Cannon wedge has one of our most comfortable straps. For ladies looking for feet-friendly shoes, we've nicknamed this shoe "the Bunion Shoe." The Backless Cannon pairs well with a wrap dress when you're looking for a sophisticated look. The faux espadrille wedge and wide upper strap offers an elegant yet approachable touch.
2. The Cannon — The Cannon remains one of our best-selling sandals at Charleston Shoe. If you love the look and feel of this comfortable and trendy style, be sure to look at all of our best-selling sandals. If you're not quite sure of the formality of an event, the Cannon is perfect for anything from everyday obligations to your more formal outings like parties and weddings. Pair it with a midi dress and finish off the look with a cute straw hat!
Shop Our Best-Selling Sandals
3. The Backless Cooper — Looking for an easy slip-on shoe? Try the Backless Cooper, one of our most popular and comfortable wedge sandals. This 2" covered wedge heel with double straps goes great with a loose-fitting shirt dress with a shirt collar and button-down front. It's easy to dress up or dress down with accessories like a clutch and sunnies.
4. The Bermuda — According to Love to Know, if you're looking for a shoe to wear with a flowy maxi dress, go for a casual sandal like the Bermuda. In general, heeled and flat sandals are great options for wearing with longer dresses like midi dresses and maxi dresses, while shorter dresses have a little more versatility. The Bermuda is a heeled wedge sandal that's versatile enough to wear with a floral maxi dress or a solid color mini dress. It's a great travel-friendly option for anyone who wants a comfortable sandal to wear on their flight or during long road trips.
Check Out Our Comfortable Sandals
5. The New Monterey — We're all about giving effortless style a new meaning, so we've taken your favorite Cobblestones to Cocktails shoe and improved it with the New Monterey. It's a lug sole sandal available in vibrant new colors and redesigned with more stretch and comfort. Pair this 1" platform lug sole with a sweater dress during the transitional seasons. When you want to add a touch of casual elegance to your outfit, put on the New Monterey.
6. The OBX — Every woman needs a comfortable closed-toe wedge in her closet. The OBX is designed for comfortable all-day wear and ideal for breezy spring days and brisk fall afternoons. Pair this wedge heel with a peplum dress that can be layered with a cardigan or blazer to carry you through all the seasons.
Say goodbye to sore feet this summer, and say hello to all the fabulous travel shoes for women you can get for your next trip. When looking for the most comfortable sandals for your dresses, opt for ones with adjustable straps, arch support and cushioning. With our wide array of comfortable sandals at Charleston Shoe, you'll be able to confidently stride in your fabulous maxi dress wherever you go. Embrace every step of the journey, and we'll be with you every step of the way!