Back To Blog
5 Comfortable Shoes to Wear in Greece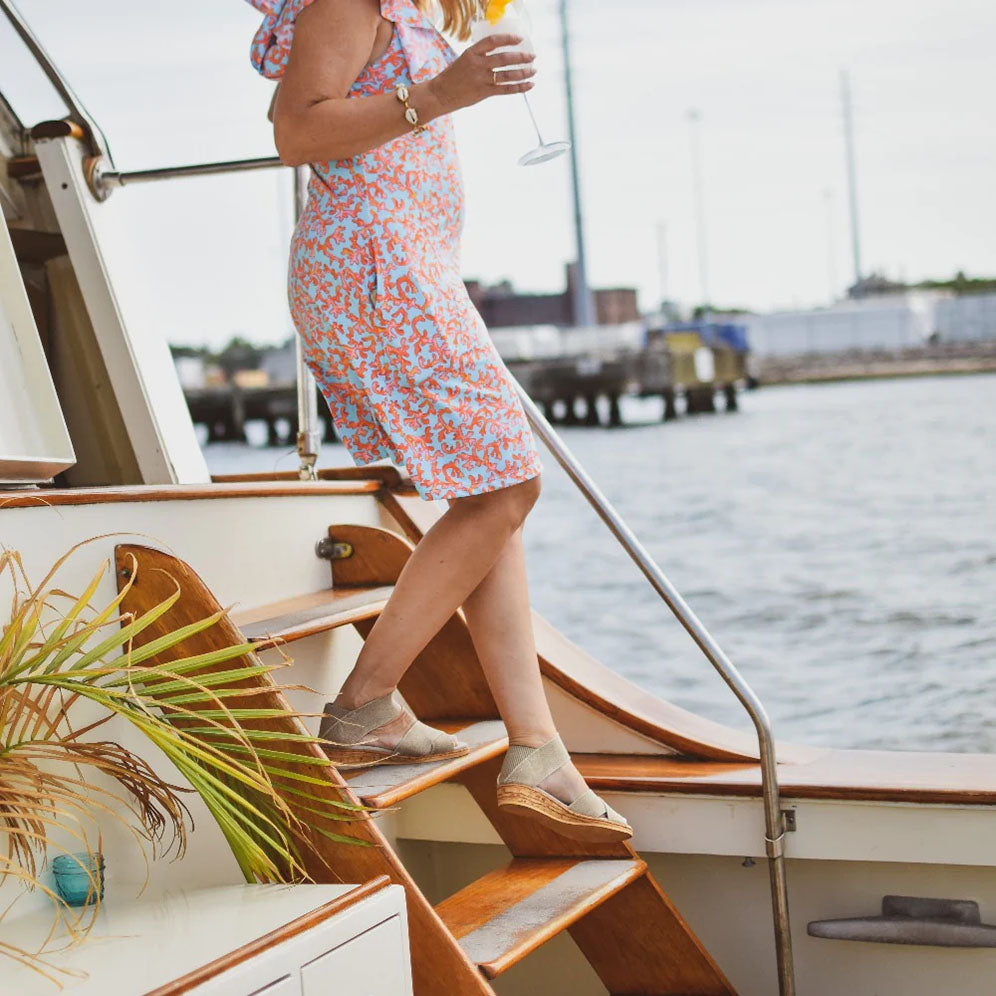 Whether you're exploring the sandy shores of Santorini or trekking through the Acropolis, you'll want to make sure that your shoes are comfortable and versatile to get you through the ancient ruins and picturesque isles of Greece. Every step you take when you're looking up at a Venetian fortress or walking through a Byzantine church will require shoes that are cushioned and supportive. As you get ready for your trip to the Hellenic Republic, we've put together a list of five of the most comfortable sandals and other practical yet stylish shoes to wear in Greece.
Find a Pair of Comfortable Sandals
1. The Peachtree — Picture yourself on the picturesque island of Santorini as you're about to dip into the turquoise waters. When you're looking for a shoe that's as good for dining in a fine seaside restaurant as it is for walking around a beautiful Greek village, get the Peachtree. This sandal is meant for warmer weather and sunny days. We've designed this sandal as the perfect blend of our most popular upper and low wedge sole. Wear it in understated linen or a fun turquoise stripe to match the turquoise Santorini waters. If you love this 1" covered wedge, make sure you look at all of our cute and comfortable flats for women!
Get Our Cute Flats
2. The Backless Cannon — The lifestyles of the rich and the famous are alive and well in Nafplio, known as the playground of the Athens elite. You'll be in awe of the enticing charm of citadels and fortresses that decorate the Nafplio hillside. For a shoe that's fit for exploring the narrow and winding streets and taking selfies in front of million-dollar yachts, consider the Backless Cannon. This faux-espadrille wedge is perfect for any woman who wants a shoe designed for extra comfort. That's why we've nicknamed it our Bunion Shoe. For lovers of the playful style of the Backless Cannon, check out the Cannon – our original and best-selling low-heeled wedge.
3. The Backless Cooper — Double straps. Espadrille wedge. It's double the fun, all with the practicality of a 2" covered wedge heel and machine-washable fabric. After you explore the Minoan ruins of Knossos or take your beach holiday on Zakynthos, just toss the Backless Cooper into the wash. You'll be able to love these sandals over and over again, and they'll always remind you of your fabulous trip to the Greek Isles.
Check Out Travel Shoes for Women
4. The Chloe — According to Trafalgar Tours, not only is Greece made up of thousands of islands, but the country is also about 80 percent mountains. The diverse landscape of Greece requires shoes that are as versatile as this beautiful Mediterranean country. When you're taking in the rich heritage of Corfu, an island known for both rugged mountains and a few of the best beaches in the country, you'll want to be wearing the Chloe. With a 1" espadrille wedge heel, it's perfect for strolling along sandy beaches and taking a walking tour.
5. The OBX — The OBX is one of our fashion-forward professional shoes for women, perfect to wear if you're in Greece for a business trip or have some more formal dinners or events lined up. If you plan on visiting Greece during the fall or winter months when you don't want to have an open-toe shoe, the OBX is one of the most comfortable closed-toe wedges you'll ever wear.
It's time for you to set sail for your trip to the Mediterranean paradise of Greece. No matter what shoes you end up packing with you for your Greek adventure, Charleston Shoe has the best travel shoes for women. Our travel shoes are specially designed by women, for women — whether you're visiting an ancient Greek temple in Cape Sounion or walking through colorful food markets in Thessaloniki.