Back To Blog
Staff Spotlight: Jill! 💛🥂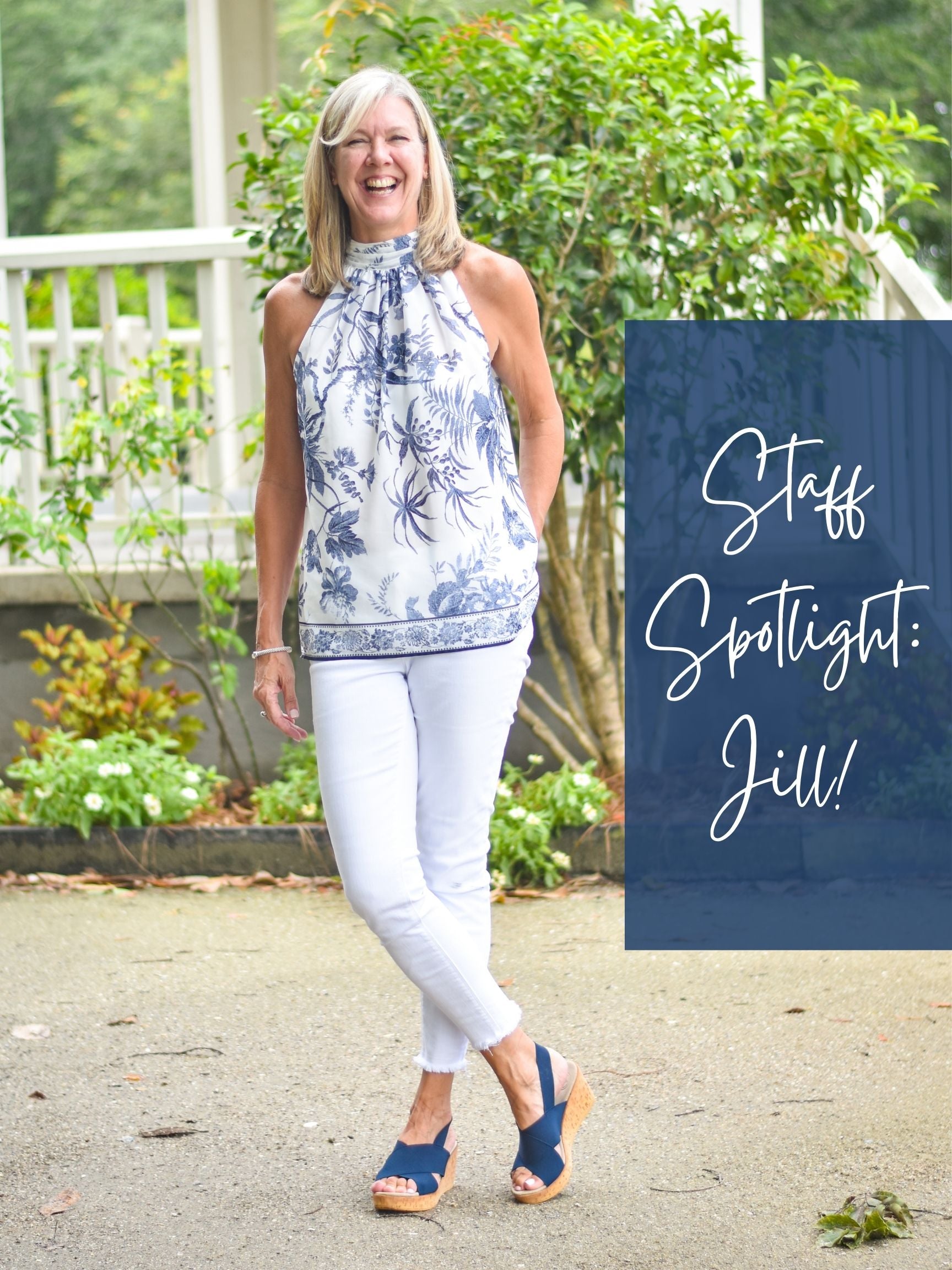 Meet Jill!
This week we introduce you to Jill, our Chief Operating Officer. During her three years with Charleston Shoe Co. she continues to keep the team excited and supported while driving the business to new heights. Whether that is working in the warehouse, hiring incredible staff, crunching numbers or loving on the office dogs - she truly can do it all! Read more about Jill below...
How did you find Charleston Shoe Company? 
"I was working for a worldwide candle company for 12 years that was quite similar in structure to Charleston Shoe Co. We had an entrepreneurial female founder so naturally I was drawn to Neely and the brand she has worked so hard to create. I thrive in collaborative business environments where you see the impact of hard work and leadership. There is a level of structure but also an element of FUN when you see a company grow. I was lucky enough to meet Neely via a FedEx account rep who thought that my background in International Trade, foreign manufacturing as well as being a Licensed Custom Broker would benefit Charleston Shoe Co., and the rest is history. Timing is everything, right?"
How has your role at CSC changed over the years?
"It's evolved in such an exciting way in a short period of time. This is the advantage of working with a small but growing business especially through the challenging times of Covid. After joining Charleston Shoe as the Vice President of Supply Chain, I took on the oversight of Human Resources as we grew into new markets within the US to ensure compliance. With these important roles and increased interaction in the overall operations, coupled with my confidence in the brand and desire to fully support the company, Neely envisioned a transition into a more impactful leadership role as Chief Operating Officer. I am very fortunate to have her recognition and support."
What does your day look like? 
"I change my hats a lot! I really try to make sure that the team has what they need to succeed. Everything flows upward, so if someone is having trouble then the business can not run efficiently. In short, I ensure the business is running properly, along with mentoring and guiding our Charleston HQ staff."
What's your favorite shoe? 
"I love the MED. I'm tall so I usually don't go for high wedges, but the platform makes them extremely comfortable and easy to wear. My second favorite style is the Carolina in Linen because I can wear it with anything in my closet. I'm boring when it comes to colors. Maybe I will try our beloved Tobacco color this Fall!?"
Favorite place for a Cocktail in CHS? 
"I love The Kingstide on Daniel Island! The atmosphere and views are incredible overlooking the Cooper River. It's my go-to for enjoying a glass of champagne with family and friends."
Fav place in Charleston for a Happy Hour or dinner?
"This is a tough one... Charleston has so many wonderful restaurants! But my favorite is Melfi's - a glass of champagne while enjoying the Prosciutto & Burrata appetizer followed by the Paccheri...YUM! P.S. Can you tell that bubbles are my favorite drink?!"🥂