Back To Blog
The NEW Drake 🔥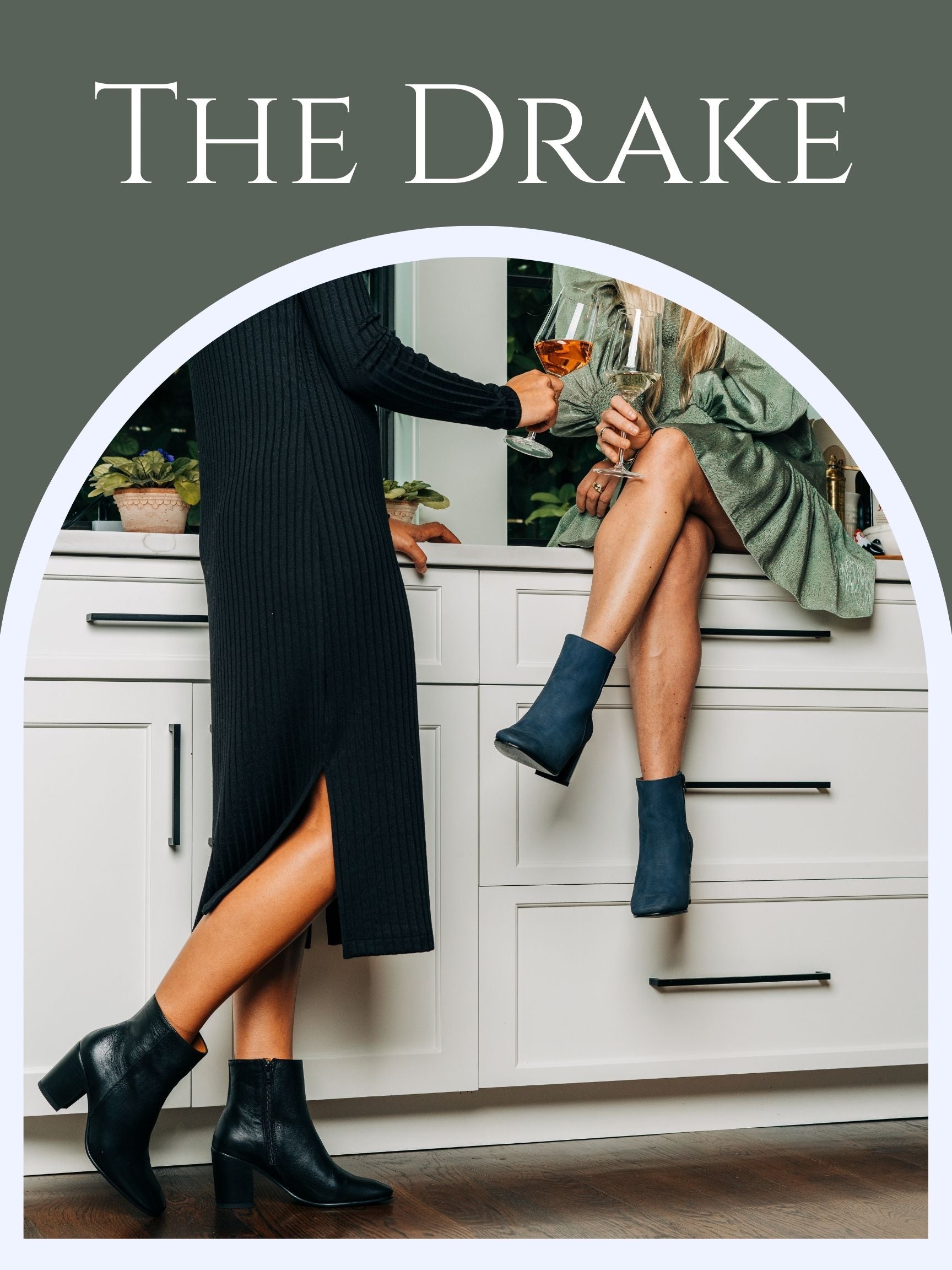 The Drake: Our New Go-To Boot
You're about to rock our chunky heel Drake boots wherever you go. You'll be standing tall and beautiful in these boots with a square-toe design and stacked heel. It's no wonder that the Drake has become our new go-to boot at Charleston Shoe! If you love the look of a stiletto with the practicality of a lug sole, you'll love the way we've designed those toe booties. These platform booties are trendy, stylish and classy and easily pair with just about everything in your wardrobe. Try experimenting with different colors of the Drake to see which matches your personality and style the most, but when in doubt, try our most popular colors — navy and black — both of which are fun and easy to style.
How to Style the Drake in Navy
If you love the look and feel of Chelsea boots, nothing says you're living la dolce vita quite like wearing the Drake in navy. From your favorite pair of jeans to your pretty cocktail dress, our navy suede Drake boots stylishly accompany any autumn look. Use this opportunity to play around with different accessories to add a pop of color to your navy Drake booties. Add on an infinity scarf if it's chilly outside or a light silk scarf for the spring and summer months. Don a cozy knit beanie or put on a playful fedora. Don't forget about a patterned handbag like an animal print purse or straw tote bag to add some texture to your outfit.
How to Style the Drake in Black
For a sleek look, wear the Drake heel booties in black with an all-black outfit from head to toe. They're sexy. They're sleek. You're about to see why black leather boots — and really black leather anything — never go out of style! When you get the Drake in black, you're wearing western boots with a cosmopolitan touch. You'll look fashion-forward with just a bit of edge when you wear the Drake dress boots in black with a moto jacket or a water-resistant windbreaker for those windy days. Make them your go-to pair of rain boots when you want a versatile boot that can take you from the car to the office. Because black Chelsea booties will match with pretty much any color or pattern, you can easily mix and match different colors and textures like wearing your black Drake boot with a denim jacket or velvet dress.
More Styling Tips for the Drake
Want the comfort and ease of combat boots with the style of a high heel? Get the Drake boots, designed with total accessibility for any woman who loves heels but appreciates comfort wherever she goes. There are so many fun and easy ways to style your Drake leather ankle boots. Pair a faux fur sweater or a cardigan over a lace-up mini dress for a playful yet cozy look that works well through all the seasons. To balance out your look, wear your Drake booties with skinny jeans or leggings. For a classic and polished look that works well whether you're going to the office or having Sunday brunch with your besties, tuck bootcut jeans into your Drake booties. Pick up your pair of Drake heel booties and any of our best sellers and new arrivals today by visiting us at any of our Charleston Shoe locations in-store or ordering online.