Back To Blog
Your Ultimate Guide to the Different Types of Sandals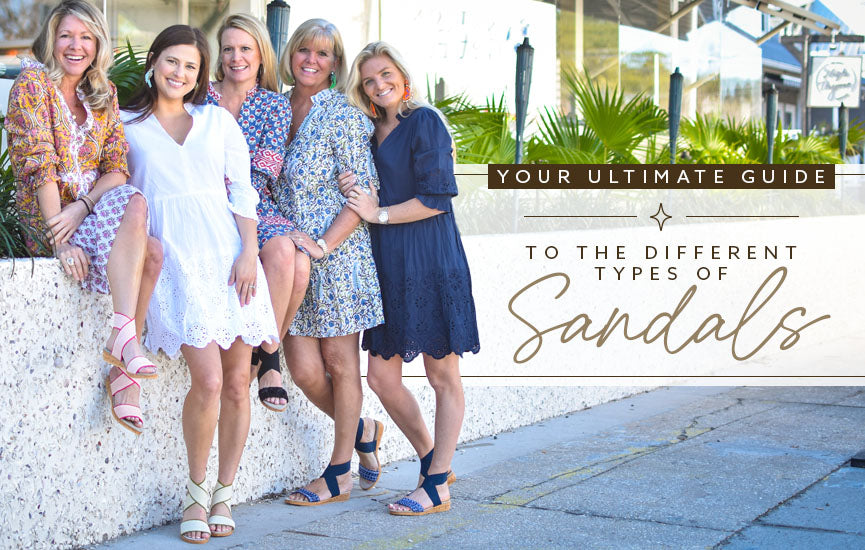 Everyone has their favorite pair of comfortable shoes. Depending on what a typical day in your life looks like, you might love wearing a pair of supportive sneakers, soft loafers or your tried and true comfortable flats. Perhaps the most well loved of all comfy shoe styles, however, is a classic sandal. Many are drawn to iconic sandal design elements like straps, buckles, criss cross designs and more. Plus, their low coverage structure and general lightweightedness make for easy storing and packing. 
There's a great sandal out there for every different type of warm weather activity. From casual pool days and lunch dates to cocktail parties and other nicer events, you can find the perfect sandal to match your outfit. If you're planning a fun summer getaway, your sandals are a great, lightweight addition to your suitcase or travel outfit. We could go on and on about how much we love sandals here at Charleston Shoe Co., but instead, here's an all inclusive guide to the different types of sandals, how to wear them and more. 
Flat vs. Heeled Sandals
The list of sandal styles can be divided up into flat sandals and sandals with a heel. Within these two groups, you can find options that range from simple and casual to gilded and glamorous, meaning there's a flat or heeled sandal style for any occasion. Having said that, some of the most comfortable cute sandals for women have either a low or no heel. Flat or slightly elevated sandals are a great way to upgrade a casual outfit and serve as the perfect alternative to ballet flats or sneakers. Flat sandals are simply the best option when it comes to a casual and comfortable warm weather shoe. 
On the other hand, heeled sandals are just as versatile as their flat siblings. When it comes to heeled sandals, there is a huge range in heel height as well as heel shape, allowing you to get exactly the amount of lift you want. Popular sandal heels include tiny kitten heels, small block heels, wedges, platforms and more. Sandals are much like traditional high heels in that a low or medium heel that is wide and stable can give you the most security and support as opposed to a long, slim stiletto. Heeled sandals are best paired with fun outfits that include short dresses, flowy maxi skirts and even cute summer jumpsuits! 
Explore Our Cute Sandals for Women
Whether you prefer a flat sandal with a casual or laid back outfit or a colorful pair of heeled sandals with your favorite summer dresses, Charleston Shoe Co. has a sandal style you'll love to wear over and over again. Each of our sandal designs is created with both style and comfort in mind, meaning you'll never have to choose between the two. Padded insoles and comfortable fabrics pair with elegant shapes, textures and designs to give you the best of both worlds. 
Casual vs. Dressy Sandals
Perhaps the best thing about sandals is that they can be dressed down for casual daytime wear or dressed up for a more polished look. For example, a great pair of wedge sandals can go either way and it all depends on your outfit. For a low key yet stylish look, you might consider pairing some neutral colored wedge sandals with a low or medium heel along with white denim shorts, a sleeveless top and a few pieces of jewelry. It's a well balanced look that doesn't require too much thought or planning! 
For a nicer look with wedge sandals, you can take things up a notch with a dress and fun accessories! Keep it classic with your trusty little black dress and gold hoops or go for a dress or skirt with a bright, bold print. Throw on your favorite shiny bracelets, grab a neutral evening clutch and you're ready for a fun summer night! 
Material and finish can make a big difference when it comes to pairing sandals with the rest of your closet. Casual materials like pebbled leather, linen, canvas and synthetic blends look great with casual cotton dresses, denim shorts and other soft, summertime fabrics. Alternatively, materials like patent leather and anything with shimmer or shine go perfectly with a more spruced up look. Get creative and pair different sandal materials with imaginative outfits! 
To Strap or Not to Strap?
When it comes to sandals, straps are the star of the show. Sandal straps come in a myriad of lengths, widths, textures and patterns. They're commonly made to be the centerpiece of sandal designs and can define a style completely. There are a few popular toe and ankle strap styles of casual descent that include braided leather and stretchy elastic material. As you may already know, we're huge fans of the elastic sandal strap here at Charleston Shoe Co. and love to see cute, casual elastic strap-laden sandals paired with flowy pants, skirts, dresses and more. 
If a sandal doesn't feature a defined strap as part of its design or structure, it may include a thong design or structured band over the toe area. This more structured material is common in many comfortable heeled sandals for women in order to keep the shoe and foot steady without a strap. Choosing between strappy and strapless sandals all depends on your personal preference and what kind of look you want to create. You can pair strappy criss cross sandals with solid colored outfits to add texture, shape and dimension — or go for the opposite look and wear a bold, printed dress with classic wedge sandals that feature a wide toe band. Mix and match both sandal styles with your favorite pieces to create fun, unique outfits!
Browse Stylish Wedge Sandals
Sandals for Success
Charleston Shoe Co. sandals are unlike any other sandals in your closet. They're stylish, supportive and made to stay comfortable no matter where the day takes you. In addition to impeccable style and unbeatable comfort, each one of our sandal styles is designed with versatility in mind. A pair of Charleston Shoe Co. sandals can take you from cobblestones to cocktails effortlessly! Here's a more detailed look at each different type of sandal in our collection:
Criss Cross Strap Sandals: A cute criss cross strap remains a popular element in both Charleston Shoe Co. sandals and beyond. Criss cross straps across the toes and ankle offer flattering coverage, comfortable support and a stylish design that can be worn with both daytime and evening looks. At Charleston Shoe Co., our signature criss cross straps are made with sturdy yet stretchy elastic that expands to your exact foot shape. Our flat and heeled criss cross strap sandal styles are ideal for if you have bunions or are on your feet for hours at a time!
Lug Sole Sandals: Need some extra grip? With specific elements built to keep you stable and supported, a lug sole is designed for both style and security. Lug soles typically include a dense rubber heel beneath the insole that feature indentations or grooves rather than a flat sole. In sandal form, this means you get grip and anti-slip protection without having to sacrifice on style. Lug sole sandals commonly include platforms or block heels of varying heights. 
Espadrille: For a heeled sandal that's a bit lighter and brighter, try a pair of cute espadrilles! This iconic sandal style typically features a fabric upper with a platform or wedge heel that is covered in braided jute material. Espadrilles are perfect for the spring and summer months and come in a variety of styles, colors and heel heights. Charleston Shoe Co. Espadrille styles include a padded insole and elastic upper to maximize comfort. 
Thong: A thong sandal features a thin, dainty strap that connects the sole to the upper and is worn between the first and second toe. While typical thong sandals include T-strap styles and classic flip flops, there is much room for variation in terms of height, heel shape and other style elements. Thong sandals are great for casual wear or if you experience heel pain or irritation. The toe strap centers much of the support and weight around the top of the foot, leaving the ankle and heel free of pressure and friction! 
Wedge Sandals: Perhaps the most comfortable of all heeled sandals, the wedge is both stylish and sensible. Sandals with a wedge heel feature a heel that connects from the front all the way to the back of the shoe. This eliminates wobbliness and helps you remain steady when standing or walking. The wedge heel also typically includes a small platform beneath the toe area which balances out weight distribution and makes for more comfortable wear. Wedge sandals are available in a variety of different heel heights and the heel area can be made from materials like jute, cork, wood, rubber and more. 
Slingback Sandal: A classic slingback sandal is both iconic and supportive. Slingbacks feature a back strap that goes horizontally around the achilles tendon right above the heel, creating a "sling" of sorts. Slingback sandals are stylish and can keep your feet from moving around during wear, making them perfect for wandering, exploring and even walking on the beach! 
Stacked Heel Sandal: Get a more elevated look and rise above the rest in a stacked heel sandal. This slender heeled sandal option combines all the things you love about a sandal plus the look and height of a high heel. At Charleston Shoe Co., our stacked heel sandals are super popular, and for good reason. In addition to being super comfortable thanks to elastic criss cross straps, wraparound ankle straps and a padded sole, this style is also noted for its super comfortable three-inch heel height. A pair of stacked heel sandals is sure to become your new favorite for cocktail parties, weddings and other dressy events! 
Whether you're a dedicated flat sandal lover, a long-time wedge wearer or you're looking to expand your sandal collection to include new styles, you can use this guide to help you define and style the different types of sandals. Celebrate sandal weather in true Charleston Shoe Co. style and wear your favorite sandals anywhere the day takes you!
Image Credits:
sini4ka/Shutterstock.com
SoomO2020/Shutterstock.com