Back To Blog
What Are Espadrilles?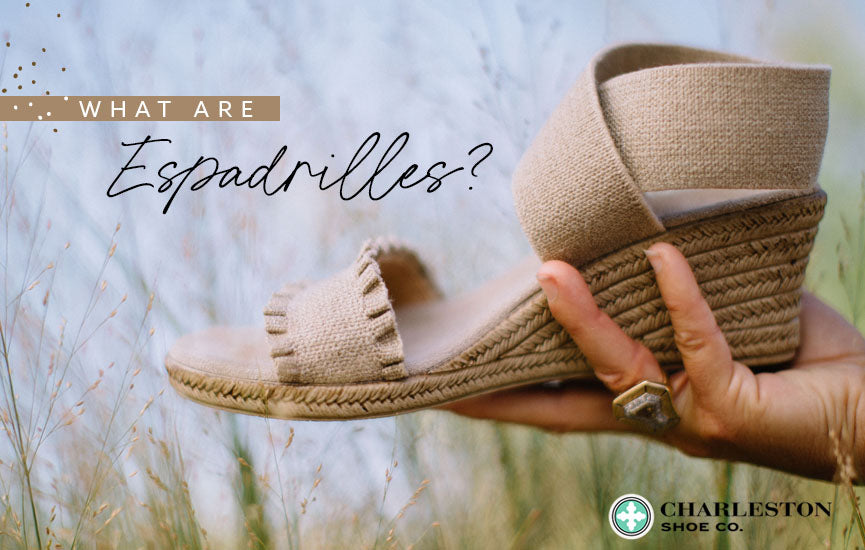 As the choice shoe of tastemakers like Elle Macpherson, Reese Witherspoon and Eva Mendes, the espadrille is one ultra-stylish footwear silhouette that's not likely to go out of style anytime soon. These comfortable, casual shoes for women tick all your non-negotiable boxes — they're easy to style, comfy to wear all day and, most importantly, trendy enough for the most fashion-forward women.
But if you're new to the espadrille, you may find these staple shoes a bit mysterious. In this guide, we'll go over everything you need to know about one of our favorite shoe styles, from what they are to how to style them, so you can rock them like a pro. 
Shop the Most Comfortable Espadrille Sandals
Defining Espadrilles
Espadrilles, also known as alpargatas, are versatile shoes featuring a lightweight, braided sole made of a natural fiber such as jute or grass. In fact, espadrilles get their name from the esparto grass, a material native to Africa and Europe which is woven into a sturdy rope-like fiber used to make cords, baskets and, of course, the soles of shoes. Sometimes, espadrille soles are made with rubber or a faux fiber material to add durability.
Although they typically have a natural woven sole, the upper of espadrilles varies widely from one style to the next. You will find that these soles look right at home on casual slip-on sneakers as well as sky-high wedge sandals. Traditionally, the top portion of espadrilles are made with canvas, cotton or another thin, breathable material. However, you'll find plenty of styles with leather, suede or elastic uppers.
Where Can You Wear Espadrilles?
Available in sandals, slides, wedges and even slip-on sneakers, these ultra-trendy kicks are perfect for dressing up or dressing down. Thanks to the earthy fiber base, they bring a distinctly laid-back, bohemian vibe to your look, but that doesn't mean you can't wear them to more dressy events.
Most espadrilles are made with either a flat or wedged sole, which makes them ideal for relaxed affairs or any activity that requires dancing, standing or walking. They lend themselves well to everything from beach weddings to long days at the office.
Thanks to the beachy vibe of the natural sole, espadrille sandals and wedges are among the most popular silhouettes for this classic option. 
Since the woven sole is not necessarily designed to endure moisture, cold or mud, these shoes are best left for mild, dry days, especially in the spring and summer. However, you can certainly find styles that work well in fall and winter, too.
If you do want to wear your espadrilles year-round, be sure to choose styles with a protected or faux espadrille bottom — these will hold up better to moisture — and a warm upper to keep the foot warm.
The History of Espadrilles
With their undeniable versatility and enduring popularity, it's hard to imagine that these shoes are anything other than a modern-day invention. In reality, though, espadrilles actually trace their roots back thousands of years, when the French and Spanish produced rope-soled shoes featuring a canvas upper with laces wrapping around the ankle. Some reports show that this type of shoe was worn as far back as 2,000 B.C. by Spanish residents in the Catalonia and Basque regions. 
Worn by both men and women, this style of shoe was originally worn by peasants in the mountains, but there is evidence to suggest that they have been worn by priests, miners and even soldiers throughout history. They were also a favorite of Catalan dancers, who wore the fiber-soled shoes with ribbon straps tied around their ankles while performing the traditional Sardana dance.
Although it's clear that the espadrille has been a footwear staple for centuries, this shoe didn't hit peak popularity until the middle of the 20th century, when Hollywood stars and starlets donned iconic espadrille sandals on the silver screen. From ladies like Grace Kelly and Lauren Bacall to icons like Carey Grant and Humphrey Bogart, the espadrille was everywhere during the golden days of Hollywood and it remains today.
With new takes by designers like Yves Saint Laurent, this category of shoe soon became as ubiquitous as boots and sneakers. These days, you'll find the espadrille virtually everywhere, from the runways of high-fashion shows to your favorite shoe store. Vogue even declared the espadrille "the only shoe you need for summer."
Why We Love Espadrilles
Now that you've got the skinny on the espadrille, it's probably not hard for you to see why we adore this legendary shoe style so much. Here are a few of the reasons why we think the espadrille is an absolute must-have for every stylish lady.
They're Comfortable

— Let's face it: no matter how much stock you put in style, you're simply not going to wear shoes that aren't comfortable. Luckily, by their very nature, espadrilles are designed for pain- and discomfort-free wear all day long. Thanks to their flat sole and soft uppers, a good pair of comfortable espadrilles is bound to become your go-to shoe for everything from sightseeing to working on your feet all day. Make sure to go with a brand like Charleston Shoe Co., as we're known for making

comfortable women's espadrille sandals

with padded insoles that add extra cushion.

Some Styles Are Washable

— It might surprise you to find that there are several pairs of espadrilles in

our selection of machine washable shoes

. How exciting is that? When you choose one of these pairs, you can quite literally throw them in the wash after a day of walking, standing or hanging out. This will keep them looking and smelling their absolute best for longer, so you can keep them in the rotation for dressier ensembles, workwear and more.

They're Lightweight

— The lightweight feel of espadrilles is another amazing benefit of this type of shoe. The natural rope fiber used to craft the espadrille's sole is much lighter in weight than other types of soles, such as leather or rubber. If you're sensitive to clunky, heavy shoes, you will absolutely adore the lighter weight of this style. Their breezy feel makes them perfect for summer days when you need your feet to breathe.

They're Perfect for Travel

— Looking for a pair of shoes that's comfortable enough for a day of museum-hopping and relaxed enough for a day on the beach? Meet your new perfect pair of travel shoes! Espadrilles are also unique in that they can translate beautifully from day to night, making them great for saving space in your suitcase. Bonus: These lightweight kicks won't add unnecessary weight to your luggage and will easily bounce back to their original shape and style when unpacked.
They Can Be Dressed Up or Down

— Espadrilles are among the most versatile types of shoes in your closet. The natural fiber sole makes them instantly relaxed — perfect for dinner at the beach bar or running errands in town — while a platform or wedge can make them feel much more dressed up. Go with an espadrille sandal and pair it with jeans, dresses, skirts, whatever! More on that below.
Style Chic Espadrille Sandals
How to Style Espadrilles
Got a pair of trendy espadrilles but not so sure how to style them? The team here at Charleston Shoe Co. has some great ideas to help you get more wear out of the espadrilles that make you feel fabulous. Hint: You don't need to go out and buy any new clothes to pair with these amazing kicks! Chances are, you've got everything you need to rock these babies to their fullest.
For Running Errands

— Even the fanciest ladies find themselves rocking casual styles more than anything, and there's nothing wrong with that! For a chill look ideal for running errands, grabbing brunch with friends or heading to the salon, grab a pair of flat espadrille sneakers and style them with your favorite pair of skinny jeans or leggings. These give off a distinctly sneaker-like vibe but keep things a bit more dressed up than your standard running shoes.

For a Night on the Town

— Getting ready for a fancy dinner or a happy hour? Grab your fave pair of espadrille wedges or strappy sandals and go from there. If dinner is on the agenda, style your espadrilles with a pair of ankle-length skinny or straight jeans and a chic satin cami or cropped tee.

For the Workday

— Your ankle-length straight trousers are your best friend when you want to show off your adorable espadrille flats! If you prefer a more traditional workwear look, go with a natural fiber sole and a pointed, loafer upper that gives your style a more office-inspired flair. Prefer to wear heels to work? Pair a pencil skirt with some chic wedge espadrilles for a comfortable yet dressed-up aesthetic. A tailored blazer or button-up will finish off this look flawlessly.
For Dinner at the Beach

— Espadrilles plus the cabana bar equal a match made in heaven! With this vibe, we want to aim for casual but put together. That's where the espadrille slide comes into play! Grab a pair with a slight platform so they're dressy enough for your dinner outfit but comfy enough to slip off if you decide to take a walk on the beach after dessert. Style them with a breezy maxi or midi dress and a denim jacket.

For a Day of Sightseeing

— Comfort is key when you're spending the day sightseeing, which often means exceeding your daily steps goal without even trying. When there are museums, castles, food tours, parks and landmarks on the agenda, we recommend going for a flat espadrille with comfortable insoles. Pair them with your comfiest pair of jeans or shorts and a breathable T-shirt that wicks away moisture. 

As a Wedding Guest

— It's all about romance when you're getting ready as a wedding guest, so you're going to want to go with a wedge espadrille or a pair of flats with ankle laces for a pop of pizzazz. A midi or ankle-length wrap dress is the perfect addition to your pretty espadrille style and will show off the sexy straps perfectly. Since the braided fiber naturally lends itself well to a more relaxed, beachy or bohemian style, reserve these for weddings that don't call for a black-tie dress code.
Your New Fave Shoe
With their undeniable charm, reliable comfort and exceptional versatility, espadrilles are some of the best shoes to add to your year-round shoe collection. At Charleston Shoe Co., we're happy to help you find the perfect pair of espadrilles for your needs, whether you're looking for your new fave pair of vacation shoes or need a style to jazz up your 9-to-5 wardrobe!
Image Credits
TrifonenkoIvan/Shutterstock.com
MicroOne/Shutterstock.com
Romanova Ekaterina/Shutterstock.com
a Sk/Shutterstock.com