Back To Blog
A Wedding Guest Guide: What Shoes to Wear to a Beach Wedding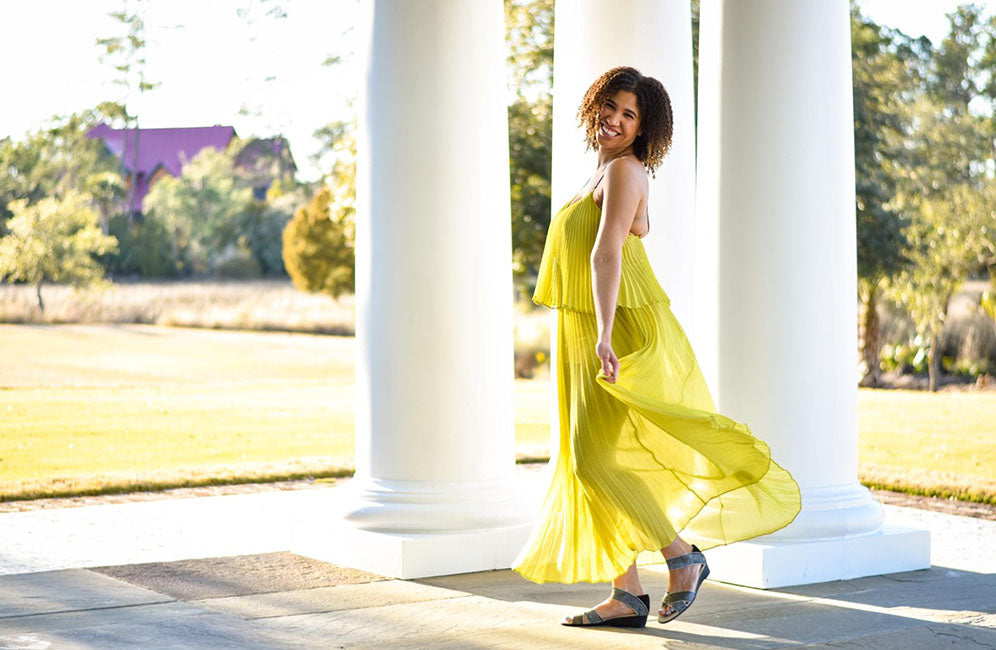 Some of the most beautiful "I Do's" are said on the sand with an unbeatable natural backdrop consisting of an orange sunset, crashing waves and a salty breeze. Beach weddings are a beautiful celebration of love in one of the earth's most awe-inspiring settings. If you've ever been to a beach wedding, you know that it's a beautiful and romantic experience, especially for the happy couple. If this is your first beach wedding invite, however, you might be feeling a little lost on what to wear to the ceremony, especially when it comes to shoes. Here are the best shoes to wear to a beach wedding. 
A Note on Beach Wedding Style
When it comes to curating the perfect beach wedding outfit, know that the rules and regulations pertaining to attire tend to differ from other weddings. Though you should consult your wedding invitation for specific dress code information, most beach wedding guest outfits consist of beachy maxi dresses, flowy skirts and other festive pieces that are generally deemed appropriate for nicer occasions by the water. This includes cute and comfortable shoes for wedding guest outfits, too. 
Explore Cute Sandals for Women
Your shoe choice is perhaps the most important part of a beach wedding guest outfit because, well, sand. Unless you plan on leaving your shoes in the car, avoid stilettos, pumps, skinny kitten heels and other slim heel styles at all costs. Though elegant and fashionable, these shoe styles will have your heels sinking down into the sand faster than a group of bridesmaids running to catch the bouquet at the reception. 
The Best Beach Wedding Guest Shoes
Strappy Sandals:

What's more beach-friendly than

a pair of cute sandals for women

? If you're going for a super cute beach wedding look but don't want to mess with heels, a cute pair of sandals is the way to go. Our very own Charleston Shoe Co.

flat sandal styles

are ideal for any beach wedding. Our sandal styles range from classic neutral colors to brighter shades and patterns, making it easy to create a cohesive look. These wedding-approved flat sandals feature strong elastic straps and bands for stability on the sand and stylish support. 

Discover the Most Comfortable Shoes for Wedding Guests
Platform Wedges:

While the idea of a platform heel might not seem ideal for a beach wedding, it's truly the smartest option if you want to create an elevated look with a bit of height.

Stylish wedge sandals

are a great option if you don't normally wear heels because the entire shoe is essentially one solid piece, helping you maintain a better sense of balance and offering added security. Wedges are great for beach weddings and walking on sand for the same reasons. For more height, go for a platform wedge that makes you taller without the forward pitch of traditional heels! 
Wide Heels:

Sometimes a wedding outfit just doesn't feel complete without a classic pair of heels. If you're in need of a beach-friendly version for your next seaside wedding, go for a pair of

open toe sandals with a stacked wood heel

or similar block-shaped heel style. Added elements like stretchy mesh and supportive heel straps will help you avoid wobbliness while acting as the perfect finishing touch for your beach wedding guest outfit!