Back To Blog
Why Buy Mom Flowers When You Can Buy Her Shoes!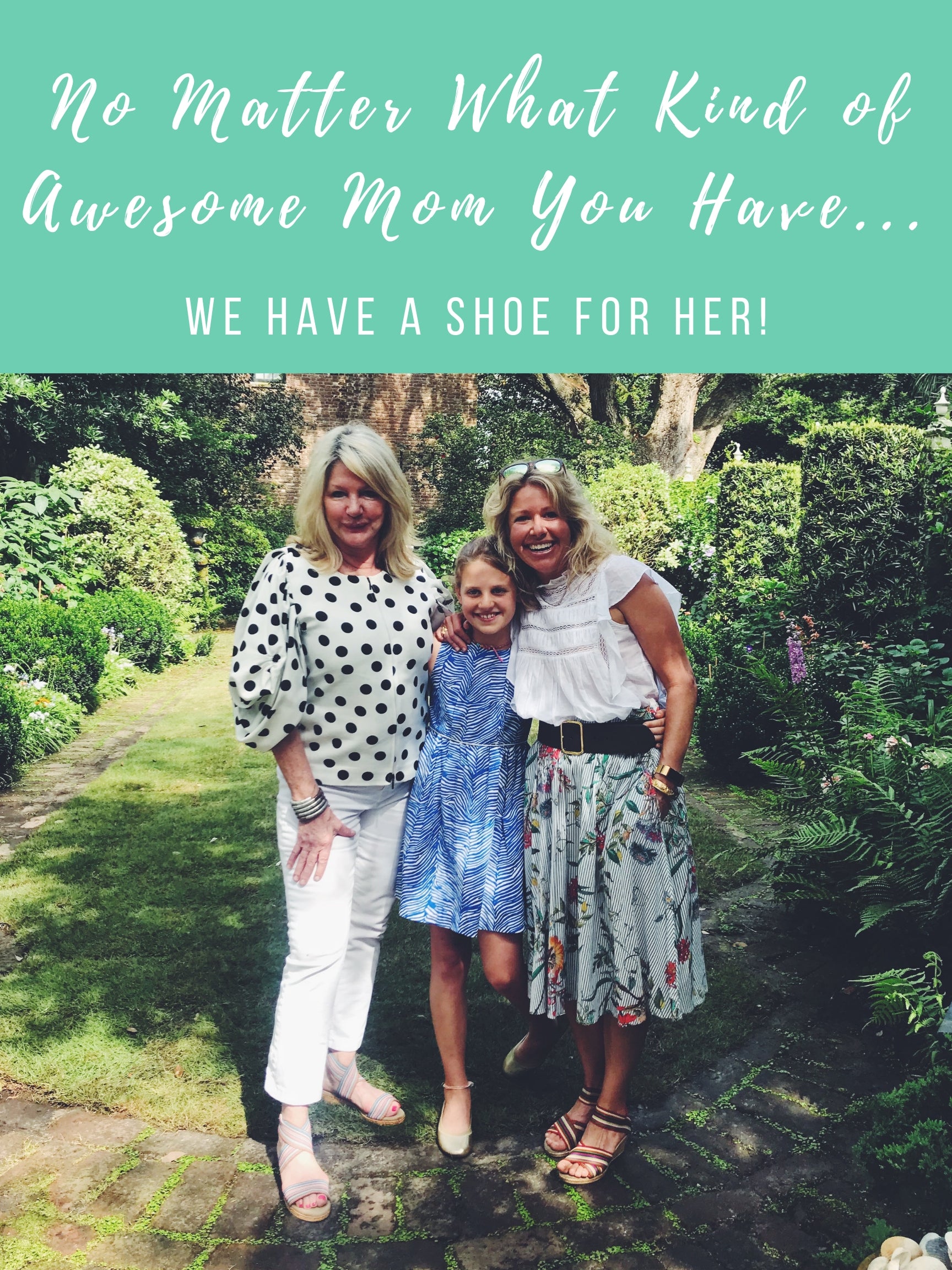 We love this photo of our favorite Boss Mom, Neely, along with her Mom Lucy and Daughter Gigi! In honor of three generations of amazing women, we want to remind you that Mother's Day is just around the corner on May 12.
They say that diamonds are a girl's best friend, but let's be honest. What Mom really wants is a great pair of shoes she can wear anywhere. From a trendy block heel to comfortable shoes she'll love wearing for hours when she's running errands or working all day, you're sure to find her the perfect pair just in time for Mother's Day.
You'll be the superstar of the family when you get her walking shoes that were designed for her to walk in for hours but don't look like the typical unisex shoe she gets on sale at the department store. All of our shoes at Charleston Shoe Co. were designed with both fashion and functionality in mind. That means whether she wants to rock her sandals with cozy hoodies or dress up her loafers with skinny jeans and a pretty blouse, there are so many different ways for Mom to style her new favorite pair of shoes.
For a playful look this spring, she can wear open-toe shoes with a floral midi skirt and white peplum blouse. If she's more of a t-shirt kind of gal, she can wear any of our flats or wedges with jeans and a plain or graphic tee. When Mom wants to wear a practical yet fashionable heel, she can pair clogs with a romper or jumpsuit.
Some moms are experts when it comes to knowing exactly what they want to wear for any occasion. Other moms prefer to just grab whatever they have in the shoe closet and go about their business. For shoes that will satisfy both fashionista moms and the more practical ones, you'll love our wide selection of heels and wedges. Check out our best sellers like the Cannon Solid and Carolina Linen, both perfect for the mom on the go who wants to add a little pep to her step.
Casual shoes are always the safe bet for a gift for any mom. With a shoe that's a bit more laid-back, you'll know that she'll have plenty of opportunities to wear them wherever she goes. For some casual favorites, try our best selling Atlantic Solid for a simple shoe she can slip right into. For an easy-to-wear shoe with just a bit more detail, try our Benjamin Solid in a pretty navy linen.
To help you find the perfect gift, we've put together the best shoes for all the Mom types out there. From boss babe to free spirit, we're sure you'll find the perfect pair!  
See something your mom would like? It's never too early to knock out your Mother's Day shopping early! We promise you can never go wrong with new shoes. 
If Mom is the kind of lady who would prefer to pick out her own shoes, get her gift cards from Charleston Shoe Co. so she can pick out her own fabulous pair of shoes.